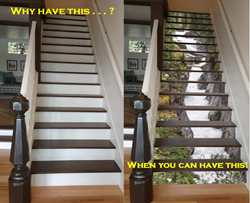 What if we could give everyone access to a new staircase? What if we could help other people reinvent their own homes?
South San Francisco CA USA (PRWEB) July 28, 2017
RISERart, a new DIY stairway improvement company, is a new company revolutionizing the look of stairways in the home.
Have you ever looked around and said, "It's time for a change"? The team at RISERart, did, too.
Christina Davidson, co-founder, relayed the beginnings of RISERart, "A couple of years ago, we were working on a big remodeling project. In the middle of what felt like forever, we installed a staircase, and, BOOM! The entire house changed with finishing the final riser. It was a much needed victory to carry us through to the end.
Time passed, we completed our job, but we kept coming back to that staircase. It had been such a huge turning point; it completely changed our perspective of the space we were working on. 'See, all you need is a staircase!' we would joke, but it was more than that… That staircase had reinvented the entire house. What if we could give everyone access to a new staircase? What if we could help other people reinvent their own homes? How could we accomplish that?"
Enter the Brains, Brawn and Beauty.
Christina "Brain-edson" Davidson is the resident genius. Once those gears start turning, she dreams up practical and stunning solutions. Ms. Davidson is a "Can do!" person. She loves old houses and wins medals in an old ice sport, eisstock.
"Muscle man", Steve Crounse, does all of the heavy lifting, so to speak. He executes the great ideas and keeps them on track. Steve's a detail guy. In past lives, he has built minpires (mini empires) including a movie theater and a sportswear e-store.
And finally, sweet as pie, "Mattie Cakes," Davidson, otherwise known as the beauty of the team. His dynamic and engaging energy keeps RISERart pushing the boundaries to better serve customers. When not supporting RISERart, Matt lives the dream, working on his passion with his internet company, http://www.bluetunaspearfishing.com.
Together, RISERart came up with a way to reimagine home decor.
Matt, "There are so many hurdles to changing living spaces; maybe there is not money for an expensive remodel; maybe there is not enough time; maybe it is a rental; maybe all of the above - and more".
That's where RISERart comes in.
RISERart is made with high resolution photographs printed on high quality vinyl coated on one side with a light adhesive. It is kind of like wall paper for stairway risers, without the mess and inconvenience of glue. Our photo gallery has items ranging from man caves and kid play to outdoors and architecture (and much more). If it can be dreamt up (in high resolution), we can print it. See some of our designs at http://www.etsy.com/shop/riserart.
Steve, "RISERart is fast and RISERart is cheap. In an afternoon the look of home can completely change and for a fraction of the cost of remodeling a staircase. It doesn't get much better than that".