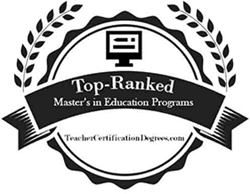 "A growing number of education schools are hosting online teacher preparation programs at the master's level to respond to teacher shortages. Our list differentiates itself from others by honing in on online master's programs for initial certification."
Seattle, WA (PRWEB) July 22, 2017
TeacherCertificationDegrees.com, a popular education-focused website that provides in-depth information on teacher preparation programs and certification requirements in the US, has released its ranking of the top online master's degrees in education. To be considered for the list, schools with a hybrid online master's program designed to lead to first-time certification for new teachers were evaluated for not-for-profit status and accreditation from one of the six regional accreditation agencies in the US recognized by the US Department of Education. The online master's programs from the schools included are also equivalent to degrees granted to traditional, on-campus students. The rankings were based on factors measuring academic excellence, student experience and support, and graduate success.
The ranking uses a unique methodology that considers such factors as the average tuition cost per online credit hour; program accreditation by CAEP (or legacy accreditation from TEAC or NCATE); graduation rate; the average tuition cost per online credit hour; and school rankings according to US News & World Report in the regional, national, and online categories.
According to Rob Voce, founder of TeacherCertificationDegrees.com, "A growing number of education schools are hosting online teacher preparation programs at the master's level to respond to teacher shortages in high-demand subjects and in select regions of the US. Our list differentiates itself from others by honing in on master's programs designed for initial certification, also known as career-changer programs."
Overall, 34 hybrid and online master's in education programs met the screening benchmarks and ranked on this year's list. As well as providing data for the ranking factors of included programs, the 2017 Top-Ranked Online Master's in Education Programs list includes in-depth information on schools' admissions statistics and requirements; tuition comparisons for in-state, out-of-state, and online students; and the services and support available to online students. Users can also view:
-In-depth profiles of select online graduate teaching programs
-Data on faculty experience levels, including the percentage of faculty with terminal degrees
-Foundational teaching courses for profiled programs
-Debt statistics for graduate students for select programs
The top schools on this year's list are:
1. Clemson University (Clemson, SC)
2. University of St. Francis (Joliet, IL)
3. Mayville State University (Mayville, ND)
4. Kansas State University (Manhattan, KS)
5. Arizona State University (Tempe, AZ)
6. North Carolina State University (Raleigh, NC)
7. University of the Cumberlands (Williamsburg, KY)
8. Old Dominion University (Norfolk, VA)
9. Valley City State University (Valley City, ND)
10. University of Tennessee at Martin (Martin, TN)
11. Northwestern State University of Louisiana (Natchitoches, LA)
12. University at Albany, SUNY (Albany, NY)
13. University of Southern California (Los Angeles, CA)
14. University of Arkansas at Monticello (Monticello, AR)
15. Oregon State University (Corvallis, OR)
16. Western Oregon University (Monmouth, OR)
17. Stevenson University (Stevenson, MD)
18. Western State Colorado University (Gunnison, CO)
19. University of West Alabama (Livingston, AL)
20. State University of New York at Oneonta (Oneonta, NY)
21. Western Governors University (Salt Lake City, UT)
22. University of Louisiana Monroe (Monroe, LA)
23. Merrimack College (North Andover, MA)
24. Saint Joseph's University (Philadelphia, PA)
25. California State University-Fullerton (Fullerton, CA)
26. McDaniel College (Westminster, MD)
27. Texas Woman's University (Denton, TX)
28. State University of New York at Brockport (Brockport, NY)
29. Concordia University Wisconsin (Mequon, WI)
30. University of Maryland University College (Marlboro, MD)
31. Belhaven University (Jackson, MS)
32. City University of Seattle (Seattle, WA)
33. Metropolitan State University of Denver (Denver, CO)
34. Gwynedd Mercy University (Gwynedd Valley, PA)
*See the full rankings and program details here: https://www.teachercertificationdegrees.com/degrees/masters-degree/online/
Media Contact:
Laura McPherson
Project 8 Labs Career Guides
info(at)teachercertificationdegrees(dot)com
(206) 569-8343
About TeacherCertificationDegrees.com: TeacherCertificationDegrees.com is a resource for those looking to explore, begin, or advance careers in education. The site's editorial staff have written and published a wealth of information on how to become a teacher, including teacher certification, teaching degrees, teaching careers, related articles, news, and interviews. The information presented on TeacherCertificationDegrees.com is drawn from the latest available government-backed data and state teacher licensing standards.