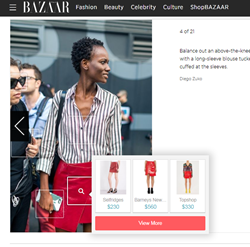 "Love it! It's Addictive"
Manhattan, New York (PRWEB) July 25, 2017
The Chrome extension aims to simplify the shopping experience and skips the step of saving your inspiration, the moment any picture online sparks an interest in the clothes or accessories, direct live shopping links are provided to allow users to "Shop the Look".
"Fashion Box" analyzes in real-time, photos that you encounter online, and finds the available items for you to purchase instantly from more than 534 shopping sites. The software works in the form of boxes, by hovering the mouse over any clothing item or accessory a box will automatically appear and provide an option for a pop up with shopping links. From that pop up the option of a more advanced pop up contains many more shopping options, with filters for pricing and brands. The experience makes it easier than ever to find something very specific to the customer's taste. One of the users Valerie Kabischer reviewed the product with five stars on the Chrome Store, commented, "Love it! It's Addictive."
The software automatically detects the IP location of the customer, so only the relevant shopping sites appear that already ship to their destination. This removes the frustration of searching for an item that does not ship to the desired location. Another useful feature is the ability to filter the pricing of the shopping results, so you can just as easily 'shop the look' for less. The mission of this product is to revolutionize the way online shopping is conducted, for the better.