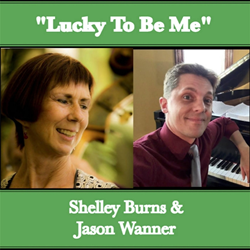 My last recording project, "Lucky To Be Me," was recorded live without an audience, with a microphone on the piano and a mic for my voice. We had so much fun recording this way
(PRWEB) July 25, 2017
Shelley Burns has been performing professionally all of her life, and is regarded as a premier jazz vocalist on the west coast. Having been afforded to perform on jazz festivals in the U.S, Scotland and Canada, and continues to seek jazz stages worldwide. She performs with Bill Dendle and Eddie Erickson and has sung with Les Paul, Bucky Pizzarelli, shared stages with jazz greats such as Bob Draga, Abe Most, Johnny Varro, and Jimmy Smith.
"My last recording project, "Lucky To Be Me," was recorded live without an audience, with a microphone on the piano and a mic for my voice. We had so much fun recording this way" says Shelley.
"Moon River" is the first to be recorded on my upcoming project, featuring the lyrics of Johnny Mercer. This album is being recorded live at Moon Recording Studio, with a central microphone around which we balance, with recording engineer David Houston's help, my vocal, two guitars, a clarinet and an upright acoustic bass. The final product is anticipated for late fall.
This is an old approach to recording music, and produces recordings that are akin to live performance, rather than the over-produced, hyper-manicured products of current studio recordings. Shelley is excited about radio airplay and interviews where she gets the chance to share her unique approach to recording her music.
"Shelley has a very straight-forward approach in offering her hearts-song in each song she brings forth. She shows her audience that music can be a story-telling experience as well as effortlessly balanced with melodic dances of musicality that takes on new horizons" says Jaijai Jackson of The Jazz Network Worldwide.
Not only is Shelley a respected vocalist, she also is a well established vocal coach who has conducted vocal workshops in conjunction with jazz festivals in the U.S., Canada and Greece. As a the staff vocal instructor at two jazz camps in Northern California she received the "Great Lady of Jazz" award from the Sun Valley Jazz Festival in 2013.
Starting July 23 -29, and July 31st - August 6th, Shelley is scheduled to bring her vocal coaching tools to the Teagarden Jazz Camp where their motto is "Jazz is America's music, our heritage, and it is as much a part of our culture as the automobile.  Their goal is to ensure the survival of jazz music by "Passing the Torch" from experienced jazz artists to young musicians." The Camp is focused on improvisation, both individual and group, with an emphasis on turning theory into practice at all times. Burns also offers Skype lessons for those that would like her vocal instruction from worldwide locations.
The camp's faculty consists of some of the finest traditional jazz players in the country, including: Greg Varlotta, Bria Skonberg, Jeff Kreis, Anita Thomas, Terry Myers, Bill Allred, trombone, Jason Wanner, Curtis Brengle, Ed Metz, Matt Perrine, Howard Alden, Nahum Zdybel and Shelley Burns.
Burns is known for her comedic acting abilities and is often likened to Carol Burnett and Imogene Coca. Her signature expression is all her own, where she can fracture an audience with laughter, or mesmerize them with a beautiful song. 
"Compelling and imaginative" are the adjectives Bob Byler of JazzTimes uses to describe Shelley's vocal stylings.
Be sure to check out Shelley's feature on The Jazz Network Worldwide at https://www.thejazznetworkworldwide. To learn more and to purchase "Lucky To Be Me" and "Moon River" go to Shelley's brand new website at https://www.shelleyburns.net.
Follow Shelley Burns:
Facebook: https://www.facebook.com/jassbird
Twitter: https://twitter.com/jassbird?lang=en
Linkedin: https://www.linkedin.com/in/shelley-burns-16abb016/