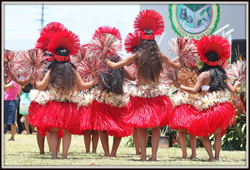 Kauai, Hawaii (PRWEB) July 26, 2017
Central to Kauai, the historic Royal Coconut Coast will be home to a series of well-known cultural events August 5th and 6th, September 23rd and 24th, and October 7th and 8th. These include the 16th annual Heiva I Kauai, the 19th Annual Powwow In Paradise, and the 21st annual Kauai Coconut Festival. Kapaa Beach Park is the location for all events. This area of Kauai, which includes the towns of Kapaa and Wailua, also hosts smaller events such as concerts, entertainment and sporting events scheduled throughout the year. For updated event information, go to http://royalcoconutcoast.com/kauai-info/kauai-events/.
August 5th and 6th - Heiva I Kauai: Kauai's exciting and colorful Tahitian dance and drumming competition is set for Kapa'a Beach Park from 10 a.m. until 5 p.m. on both Saturday and Sunday. This 16th annual contest features solo and group competitors from Hawaii, the Mainland and Japan. Performers are considered the next generation of talent portraying their cultural knowledge and skills. On both days, the award-winning Honolulu Tahitian dance group, Te Vai Ura Nui, provides house drumming and exhibition dancing. Participation is encouraged for an audience dance competition and in coconut husking contests. During this celebration of Polynesian culture 40 vendors provide an array of Pacific island crafts, food and demonstrations. For more information, go to heivaikauai.com.
September 23rd and 24th: The 19th Annual Powow in Paradise: Honoring Native American cultural traditions, Kauai's visitors and residents enjoy drumming, dancing, storytelling, traditional foods, silent auction, Native American and Hawaiian arts and crafts, Native American and Hawaiian foods and a family booth with games and activities for kids. This cultural exchange event is free and is designed with families in mind. On Saturday, gates are open to the public from 11 a.m. to 9 p.m. On Sunday gates are open to the public from 11 a.m. to 6 p.m. The colorful Powwow Grand Entry, with drumming, chanting and dancing, begins each day at 11:30 a.m. For more information, go to kauaipowow.com or email kauaipowow(at)gmail(dot)com.
October 7th and 8th: The 21st Annual Kauai Coconut Festival: This popular community festival provides demonstrations about the many uses, by-products and history surrounding coconut, a vital staple among Polynesian cultures. The festival also offers continual entertainment, cooking demonstrations by Kauai's signature chefs, a large gathering of Kauai artisans (featuring certified Kauai Made vendors), crafters and Polynesian products along with many activities designed for children and families. Also there will be kooky coconut games, pie-eating contests, a coconut cook-off contest and hands-on activities. Organized by the Kapaa Business Association, for more information, go to kba.com/coconutfestival.
Background: The Royal Coconut Coast Association is a non-profit corporation, officially established in late 2012. The organization acts as a central source of information about features in the Wailua to Kapaa corridor of Kauai including public and private attractions, businesses and area events. For more information, email info(at)royalcoconutcoast(dot)com or go to royalcoconutcoast.com.
*****
Photos provided upon request to: Margy Parker, mp(at)margyparker(dot)com, 808-651-5394