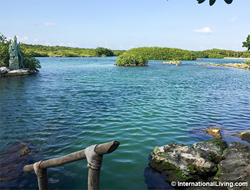 Now we can focus on enjoying our retirement with zero debt, while living on the Caribbean. Not bad!
Baltimore, MD (PRWEB) July 24, 2017
"There is simply no way we could have both retired this early in the States," says Florida-native Paul Kurtzweil, 45, who along with his wife Linda, 43, retired to Mexico in 2015. "Moving to Akumal made it all possible, and we couldn't be happier. Now we can focus on enjoying our retirement with zero debt, while living on the Caribbean. Not bad!"
Paul and Linda are not alone in bucking the trend revealed by the latest U.S. Jobs report. According to the report, more Americans are working past the traditional retirement age of 65 and the Bureau of Labor Statistics expects 36% of 65- to 69-year-olds will be active participants in the labor market by 2024. But some folks are taking a different approach to the retirement crisis. Editors at International Living say they have seen an increase in the number of people like Linda and Paul looking into early retirement overseas.
"The idea of retiring overseas has definitely become more mainstream over the years," says IL Executive Editor, Jennifer Stevens. "When International Living first started publishing in 1979, the idea was pretty far out of the box. But over the last five years or so we've seen more people coming to our conferences, visiting our website, and subscribing to our magazine for information about how to live better for less overseas.
"Our correspondents are meeting many of these people in person too, in all of the countries we cover. There does seem to be a sizeable number of people who are doing anything but postponing retirement. In fact, they have found that thanks to lower costs and high-quality lifestyles in all sorts of overseas locales, they can enjoy a long and fulfilling retirement."
Paul retired from law enforcement after 25 years, and Linda worked in child welfare management, "both high-stress jobs," says Paul. "We are both planners, so the decision to end up in Mexico didn't happen by accident. We spent several years looking at all our options, including a total of over 30 trips to Mexico.
"When I retired, Linda couldn't retire just yet, at least not if we stayed in the U.S. After we crunched the numbers, we realized that one or both of us would have to continue to work, foregoing retirement, to sustain our lifestyle. So, we decided to get serious about moving abroad…finding a place with a lower cost of living that would meet all our other requirements," Paul says. "We made the decision to move to Mexico and knew that would be the key to living well and retiring while we were still young."
Connie Pombo and her husband, Mark, also refused to delay retirement. "We were young retirees, aged 55, when my husband and I retired to Ecuador in 2010. In those early "Gold Rush Days," we were actually considered too young to retire (if there is such a thing) as all of the friends we met in our new home were in their 60s and 70s. At that time, we didn't fit in very well until the word got out that Cuenca was the "top retirement haven" and a new generation of retirees joined us—many of whom were in their late 30s and 40s.
"I will never regret our decision to retire early. It saved us emotionally and physically as we were on an economic "death row" with an oversized mortgage, two car payments, and ever-increasing medical premiums with outrageous deductibles that left us sleepless most nights."
"For seven years, we haven't had to worry about how we're going to pay the mortgage; answer to our bosses' outrageous demands for more hours and less pay; endure long, cold winters; or survive two-hour commutes in cars that were owned by the bank. Instead we've been enjoying the good life."
"We've lived on the same budget for the past seven years ($1,317 a month), as we own our condo. Mark and I are able to live a comfortable lifestyle at a fraction of what it would cost in the States. And in less than a month, we're giving ourselves a 'raise' when we are finally eligible for our Social Security checks. In the States, it wouldn't be a big deal—we'd just be scraping by—but in Ecuador our "modest raise" is equivalent to winning the lottery."
Janet Hitchens, a former nurse, and her husband John, a retired investor, first went to Santa Fe, Panama, to explore. "We both retired early," says Janet. "We were looking for adventure, for something a little different. We were intrigued by Panama because it had a stable democracy and was easy to get to from the States. So, we arrived here in November 2005, without a word of Spanish, and decided to travel around for six months.
"I'm never bored here, but Santa Fe is for active retirees," says Janet. "It's for people who like hiking to discover new waterfalls and enjoying a potluck lunch with friends at the end of it, rather than going out to a fancy restaurant.
"Everyone who comes here reinvents themselves. Now my passion is travel. And Panama is a great hub to travel from. We've been to Peru recently, and with our pensionado [retirement] visa I was able to get round-trip tickets to the Caribbean island of Curaçao for only $230."
"When people retire overseas they suddenly find they have more money left over for travel, to indulge themselves. They are essentially trading up," says Stevens. And it's not just in Latin America. Californian Tricia Pimental and her husband, Keith found they could trade up and retire early by moving to Portugal. "Keith and I immediately saw our expenses fall to between one-third and one-quarter of what they were back in the U.S. The truth is, almost everything in Portugal is less expensive. "
International Living's Best Places to Retire 2017 can be found here: The World's Best Places to Retire in 2017.
Members of the media have full permission to republish the article linked above once credit is given to InternationalLiving.com.
Further information, as well as interviews with expert authors for radio, TV or print, is available on request. Photos are also available. To learn more please contact Internationalliving.com Associate Editor, Carol Barron, tel. (772) 678 – 0287, e-mail: CBarron(at)internationalliving.com; twitter: @inliving; facebook: International.Living
For 37 years, InternationalLiving.com has been the leading authority for anyone looking for global retirement or relocation opportunities. Through its monthly magazine and related e-letters, extensive website, podcasts, online bookstore, and events held around the world, InternationalLiving.com provides information and services to help its readers live better, travel farther, have more fun, save more money, and find better business opportunities when they expand their world beyond their own shores. InternationalLiving.com has more than 200 correspondents traveling the globe, investigating the best opportunities for travel, retirement, real estate, and investment.