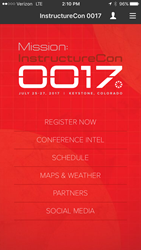 Cambridge, MA (PRWEB) July 24, 2017
Every year, thousands of dedicated Higher Education and K12 professionals flock to Keystone, Colorado for an invigorating and educational conference, InstructureCon. Each annual event is coupled with a dynamic theme like Camp Canvas; this year, they've managed to take it to the next level with a James Bond theme, Mission: InstructureCon 0017.
To extend their partnership with Canvas beyond the LMS integration, Modo Labs secured the spot to develop the InstructureCon 0017 mobile app to further showcase their solution and bring the event to life on mobile. Similar to many institutional apps, this conference app provides an interactive, personalized experience for the audience as agents can access conference intel, scheduling, maps, weather, social, networking, scavenger hunts, and more.
"We are thrilled about our partnership with Modo Labs to ensure our conference-goers get access to the information they need, when they need it, no matter where they are at the conference - in one app," said Melissa Loble, VP Platform and Partnerships, Instructure. "Whether they are seeking out the next session or waking up for 7a.m. yoga, they're always in the know."
With Modo, users can easily build unique, unified, and highly branded multi-channel mobile app solutions – whether to enhance student recruitment and alumni relations, dramatically improve retention, deploy native app notifications and alerts, special events or to achieve any other important strategic objective that depends on the best possible mobile experience. Regardless of technical skill set, Modo users across all departments can quickly contribute to a powerful and sophisticated mobile app experience that connects audiences with essential information.
"It has been an awesome experience working with Canvas on this advanced event app, which beautifully incorporates the conference's 0017 theme. Much as we already do with their Learning Management customers, InstructureCon has provided Modo a large scale forum to demonstrate the flexibility of our mobile platform, by engaging thousands of conference attendees within this uniquely branded app, while communicating conference updates in real time." said Courtney Austermehle, VP of Industry Marketing, Modo Labs.
About Modo: Trusted by hundreds of companies, institutions and hospitals in over 30 countries, Modo Labs offers an enterprise-scale mobile engagement and communication platform that allows customers to quickly and easily create institutional or corporate apps that engage recruits, employees, candidates, students, faculty, and alumni. By using Modo, our customers quickly unlock innovation and digitally transform their organizations, by harnessing the domain skills of any person in their Company or University, no matter their technical skill set.
Contact:
Courtney Austermehle
Modo Labs
courtney.austermehle(at)modolabs(dot)com