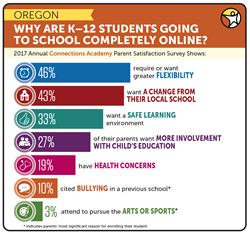 [Oregon Connections Academy] teachers provide an amazing opportunity to support both the student and the Learning Coach, and it is greatly appreciated!
Mill City, OR (PRWEB) July 24, 2017
Greater flexibility, a change from their current school, and a safe learning environment are among the top reasons parents are enrolling their students in full time online public schools, according to new results from Oregon Connections Academy's (ORCA) 2017 Parent Satisfaction survey. ORCA is the state's leading tuition-free virtual school which served over 4,000 students in grades K-12 across Oregon last school year.
The annual survey also reveals that families who make the choice to enroll students in Oregon Connections Academy continue to be extremely pleased with their child's educational experience. Ninety percent of parents give the online school program an "A" or "B" letter grade, a rating that has remained steady since the survey started over a decade ago.
"This is a school of choice for parents," said ORCA Executive Director Allison Galvin. "The results provide insights as to why so many families re-enroll their children in our school year over year. We are thrilled with this year's survey results overall, but they also help us assess areas for improvement."
When asked the main reasons for considering online school for their child, responses from parents surveyed included: 46 percent required greater flexibility; 43 percent wanted a change from their local school; 33 percent wanted a safe learning environment; and 27% percent of parents wanted to be more involved in their child's education. Other frequent factors leading parents to enroll students in a fully online school included student health issues (19%); bullying in his/her previous school (10%); and student arts or athletic pursuits (3%).
"ORCA has been the best educational decision we have made so far!" explained Daniel Eastwood from Beaverton, father and Learning Coach for Jaxon Eastwood, a competitive gymnast, who will be a sixth grader at Oregon Connections Academy this fall. "The flexibility of online learning at ORCA has been helpful for Jaxon and our family to achieve his athletic endeavors because he doesn't fall behind when we have travel for a competition."
Not only did ORCA receive an "A" or "B" grade from 90% of parents in this year's survey, but 92% also recommend the program to other parents whose children are not enrolled. Oregon Connections Academy scores also stand well above traditional public school ratings in which only 67% of parents gave the school their oldest child attends an "A" or "B" grade, according to the 48th Annual Phi Delta Kappa/Gallup Poll of the Public's Attitudes Toward The Public Schools.
The positive vote of support from parents reflects Oregon Connections Academy's continued success in providing academic rigor, high quality teachers and program flexibility to students. In this year's survey, 95 percent of parents expressed that their children are satisfied with the overall program and 91 percent said their students are making good progress, arguably one of the most perceptive evaluations of a child's education.
"My daughter is already ahead of other students her age. The teachers are extremely knowledgeable, and they spend extra time with students to make sure everyone understands what's being taught," said Brittany Thorne from Astoria, mother and Learning Coach for Zoey Thorne who will be a third grader this fall at ORCA.
Teachers received high marks as well, with 96 percent of parents reporting they are satisfied with the helpfulness of Oregon Connections Academy teachers and 94 percent agreeing that their student's teachers improve the learning experience.
"The teachers are wonderful and encouraging professionals, eager to come alongside the student and offer solid lessons," noted Kara Oliver from Keizer, mother and Learning Coach to three students currently enrolled at ORCA and three who have already graduated from the school. "Many times they have adjusted schedules, employed helpful teaching strategies, and given useful advice as our family faces the challenges of educating our children."
Oregon Connections Academy teachers use a comprehensive and rigorous curriculum aligned to state standards and 94 percent of parents surveyed agree the curriculum is high quality.
Katie Feinauer from Klamath Falls is a mother and Learning Coach to two ORCA students, a rising junior and a fourth grade student. "The curriculum provided by Oregon Connections Academy is above anything that I have seen at the local bricks-and-mortar schools," said Feinauer. "The teachers provide an amazing opportunity to support both the student and the Learning Coach, and it is greatly appreciated!"
Additional findings — 2017 Oregon Connections Academy Parent Satisfaction Survey:

93% of parents are satisfied with the variety of learning activities provided by ORCA
93% of parents rate the response time of ORCA teachers as excellent or good
91% of parents agree their children are enjoying the program
85% of parents are more satisfied with ORCA compared to their child's previous school
92% of parents agree that the use of technology is improving the learning experience
89% of parents agree that their child is able to learn at his/her own pace
Rachelle Mong of Salem has two daughters who have attended Oregon Connections Academy for many years. Her oldest recently graduated with honors from ORCA and the youngest will be a senior this fall. "The biggest reason I'd recommend ORCA to other families is that the time with your kids goes by quickly and having the opportunity to have them home and really get to know them is priceless."
Each year, Connections Academy conducts a Parent Satisfaction Survey to find out how parents or guardians of students in the schools it supports grade the virtual school program in several key areas. The 2016-2017 survey was administered by an independent market research company which created the questionnaire, collected the data, and tabulated the results.
Enrollment is currently underway for the 2017-2018 school year. Several information sessions and parent-to-parent meetings are going on across the state where families can learn more about the program with school representatives and parents. A complete schedule is available at http://www.OregonConnectionsAcademy.com/Events or by calling (800) 382-6010.
About Oregon Connections Academy
Oregon Connections Academy (ORCA) is a tuition-free, high-quality, highly accountable statewide online charter school that serves students in grades K–12. The school is authorized by the Santiam Canyon School District. All Oregon Connections Academy students participate in the award-winning national Connections Academy program that combines high-quality resources from leading publishers with cutting-edge yet easy-to-use technology and hands-on materials. Oregon Connections Academy provides students with the flexibility to learn from anywhere there is an Internet connection and with an innovative online school curriculum that meets rigorous state education standards. The combination of Oregon-certified teachers, a proven curriculum, unique electives, technology tools, and community experiences creates a supportive and successful online learning opportunity for families and children who want an individualized approach to education. Oregon Connections Academy is accredited by the Northwest Accreditation Commission (NWAC), an accrediting division of AdvancED. For more information, call 800-382-6010, or visit http://www.OregonConnectionsAcademy.com.