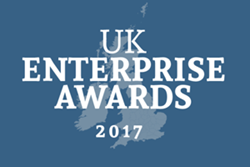 We are living in a mobile-first society and smart organisations know they need to provide effortless and seamless service and support to customers on their preferred devices.
London, UK (PRWEB) July 25, 2017
Creative Virtual, a world leader in customer and employee engagement, knowledge management and self-service solutions, is a dual winner in the 2017 UK Enterprise Awards. The company has been named 'Best for Self-Service Customer Experience Management Solutions 2017' and 'Best Natural Language & Knowledge Management Technology: V-Person Mobile.'
The 2017 UK Enterprise Awards are designed to cast a light on the very best firms and individuals from a diverse range of sectors. The awards celebrate the phenomenal accomplishments achieved by the winners in the last 12 months.
"It has been a genuine pleasure to showcase the hard work and dedication of these innovative and dynamic businesses from across the UK," says Jessie Wilson, Awards Coordinator, "and I would like to congratulate them and wish them good fortune for the future."
Creative Virtual's suite of Smart Help solutions enable enterprises to provide seamless, fully-integrated, end-to-end customer support across contact channels. V-Person virtual agents engage customers in a natural language conversation to provide quick and easy access to information and support. Backed by V-Portal™, a powerful knowledge management, workflow management and business intelligence reporting platform, their intelligent virtual agent and chatbot technology uses an industry-defining combination of self-learning and human curation of content. This hybrid approach allows organizations to be absolutely sure that their chatbot is responding to users in a predictable, consistent and legal way.
"It is an honor to be recognized for our innovative customer self-service and knowledge management technology, particularly our mobile Smart Help solution," says Chris Ezekiel, Founder & CEO of Creative Virtual. "We are living in a mobile-first society and smart organizations know they need to provide effortless and seamless service and support to customers on their preferred devices. By maintaining content for all channels in a central knowledgebase, we give organizations the confidence in knowing that customers are receiving reliable, consistent information no matter how they choose to engage."
Visit the Creative Virtual website to learn more about their award-winning self-service and customer experience solutions.
ABOUT CREATIVE VIRTUAL
Creative Virtual, winner of the Queen's Awards for Enterprise: Innovation 2017, is a world leader in self-service solutions that enable anywhere, anytime customer engagement between brands and their customers. Leading global organisations including Lloyds Banking Group, Time Warner Cable, HSBC, Verizon, Chase, InterContinental Hotels Group, Autodesk and Tesco rely on our award-winning V-Person™ technology to improve their customer support experience, increase sales, reduce costs and build brand loyalty.
Backed by an experienced, expert team as well as an extensive partner network, our innovative virtual agent, knowledge management and business intelligence platform empowers organizations to provide customers with consistent, accurate, personalized and seamless omnichannel engagement across web, mobile, social, SMS, contact center, service desk, live chat and IVR channels. Delivering significant contact deflection and reductions in average call handling times, as well as increased first contact resolution, together with powerful customer analytics and outcome tracking, the V-Person Smart Help platform is the most compelling self-service product in the world today.
Creative Virtual is headquartered in the United Kingdom with operations in the United States, the Netherlands, Australia, New Zealand, India, Singapore and Hong Kong. For more information about Creative Virtual and V-Person technology, please visit our website at http://www.creativevirtual.com.