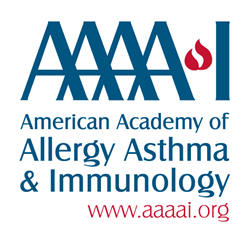 Milwaukee, WI (PRWEB) July 26, 2017
The number of adults 65 years or older is expected to more than double by 2030 in the United States, but ways to improve asthma control in the population are not well described. In a study published in The Journal of Allergy and Clinical Immunology: In Practice (JACI: In Practice), an official journal of the American Academy of Allergy, Asthma & Immunology (AAAAI), researchers identified factors associated with asthma-related emergency room (ER) visits and hospitalizations that could be addressed to reduce the total amount of ER visits and hospitalizations among adults 65 years and older.
The study, "Asthma Morbidity, Comorbidities, and Modifiable Factors Among Older Adults," focuses on phone survey responses from 14,076 adults in the United States who were 65 or older and had active asthma. The study's findings are applicable to more than 2.6 million older adults in 40 states, Washington, DC, and Puerto Rico, because of the survey's design and statistical analysis. In that group, an estimated 5.7% of patients reported being hospitalized and approximately 10.6% reported an ER visit in the last year relating to their asthma.
Among older adults, investigators found an association between asthma-related hospitalizations and ER visits and financial barriers to buying medication, seeing a primary care physician or seeing a specialist for asthma. Patients who reported seeing or smelling mold in their homes also tended to have more asthma-related hospitalizations or ER visits. The authors suggest that interventions addressing healthcare access or modifiable home-environment factors could improve outcomes.
"For clinicians caring for this population, asthma-related ER visits and hospitalizations might identify older adults who could benefit from case management or home assessments to identify possible asthma triggers in the home," said lead author of the study, Joy M. Hsu, MD, MS. "These findings could be useful in informing public health or healthcare delivery."
Contact rmaidl(at)aaaai.org to request a copy of "Asthma Morbidity, Comorbidities, and Modifiable Factors Among Older Adults" or an interview with Dr. Hsu.
The American Academy of Allergy, Asthma & Immunology (AAAAI) represents allergists, asthma specialists, clinical immunologists, allied health professionals and others with a special interest in the research and treatment of allergic and immunologic diseases. Established in 1943, the AAAAI has more than 7,000 members in the United States, Canada and 72 other countries. The AAAAI's Find an Allergist/Immunologist service is a trusted resource to help you find a specialist close to home.
###