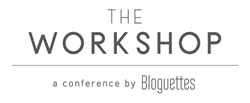 Walk away with actionable steps to take your blogging business to the next level.
Phoenix, Arizona (PRWEB) July 24, 2017
Bloguettes (http://www.bloguettes.com), the premier online community for female entrepreneurs, announced today it will be hosting its conference, The Workshop, on February 8-9, 2018 in Phoenix, Arizona. The Workshop (http://theworkshopphx.com/) will feature 30 sessions on subjects such as content creation, photography, social media, running a small business, blog monetization, marketing and more.
Co-founded by Lorena Garcia and Sakura Considine, Bloguettes has built a thriving community of creative entrepreneurs across a variety of industries and professions. The two-day conference is aimed at female entrepreneurs, emerging bloggers and social media professionals who are interested in learning about the skills, resources and tools they need to transform their business and build a bold, online presence.
"Over the past three years, we've trained thousands of bloggers and entrepreneurs through workshops, webinars, online classes and industry-specific events," said Lorena Garcia, co-founder of Bloguettes. "The Workshop is a culmination of those efforts and is a huge step forward for us as we continue to fulfill our mission to equip the creative community with the knowledge and skills they need to exceed their goals and conquer the digital space."
The Workshop is unique in that it has found the perfect balance between an inspirational conference and a hands on workshop, connecting industry experts with over 300 attendees, for the largest collaboration of female founders. Through hands-on sessions led by branding, marketing, design experts and successful entrepreneurs, attendees of The Workshop conference will walk away with tangible next steps to take their brand, blog and business to the next level.
Early-bird tickets are available at a discounted rate for $450, and will go on sale August 24th, 2017.
To stay up to date with changes in ticket pricing and new sessions and featured speakers, join The Workshop's mailing list here: http://theworkshopphx.com/.
Brands interested in sponsoring The Workshop can receive more information by reaching out to sponsor(at)bloguettes(dot)com.