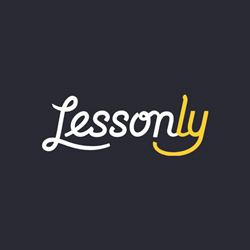 "These are some of the most ambitious additions to Lessonly we've ever built. Our customers deserve better than what the traditional LMS provides." — Max Yoder, Lessonly CEO
Indianapolis, Indiana (PRWEB) July 25, 2017
Lessonly, the leader in modern team learning software, today announced new product features to improve customization, organization, video functionality, and accessibility of learning content. These improvements further Lessonly's mission of helping teams do better work. This user-focused approach has been disruptive in the online training software market.
"These are some of the most ambitious additions to Lessonly we've ever built. Our customers deserve better than what the traditional LMS provides," said Lessonly CEO Max Yoder. "Now more than ever, we are exceeding customer expectations. These new features allow our customers to create the engaging and high-quality learning their employees demand."
The new Lessonly features include:
Paths—Customize the entire employee learning journey from new hire to seasoned veteran. Choose critical learning content, set timelines for completion, add necessary delays or wait steps, and Lessonly will automatically deliver lessons to team members.
Lessonly for Chrome— Lessonly for Chrome brings information to team members as they use their web browser. View suggested lessons, ask for expert feedback, search for content, or complete an assignment—all without leaving existing workflows.
Rehearse—Practice core job skills with video and audio recording. Learners capture pitches or responses to training prompts and submit them for feedback, allowing managers to offer personalized advice and coaching.
Smart Groups—Organize and manage team growth in Lessonly by offering targeted, customized information to employees. Create dynamic Smart Groups based on criteria such as hire date, job function, and more—or create your own custom fields.
More about Lessonly's upcoming features can be found on their website.
In addition to new product offerings, Lessonly is undergoing a series of hiring initiatives with new roles in sales, client experience, enablement, recruiting, operations, and product through the end of 2017. Current openings can be found on Lessonly's website.
About Lessonly
Lessonly is modern team learning software used by over 750,000 learners at more than 400 companies to translate important work knowledge into Lessons that accelerate productivity. Sales teams across the world use Lessonly to reinforce best practices, accelerate rep performance, and close more deals. Support teams across the world use Lessonly to serve customers faster, drive consistent support, and elevate the customer experience. Learn more at Lessonly.com.
Follow us on Twitter at @Lessonly and like us on Facebook at facebook.com/lessonlyapp.