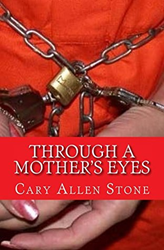 (PRWEB) July 26, 2017
​Filicide, the horrific act of a parent killing their child, is on the rise in the United States. According to The Washington Post, one motive that has become more prevalent is altruism or murder out of love; the parent believes that killing the child is more merciful than allowing it to live.
Cary Allen Stone, the author of "Through a Mother's Eyes: A True Story," spent dozens of hours researching a young mother named Julie and her life experiences that lead her to make the devastating decision to take her seven-year-old son, Charlie's, life.
Stone also interviewed attorneys, prison personnel, and others for "Through A Mother's Eyes" to get a better understanding of what had happened.
Stone had known Julie before she committed this heartbreaking crime, only to see Julie on the news and hear about her unspeakable act.
Ask Stone:

Why Julie took her son's life when she loved him so much
Why she attempted to take her own life
What reader's reaction is when he tells them about the book
What reader's reaction is after they read the book
How this can happen to anyone
What can be done to prevent future filicide
For interviews with Cary Allen Stone, or more information, contact Burke Allen 703-589-9860, or info@allenmediastrategies.com.