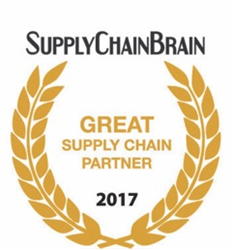 "We have an internal motto here at MEBC which is to 'Partner with Clients for Life'," said MEBC Vice President Grant Lock.
Reading, PA (PRWEB) July 28, 2017
Nominated for the third consecutive year, MEBC has been named to SupplyChainBrain's 100 Great Supply Chain Partners for 2017. MEBC received numerous client nominations from customers who recognized MEBC as providing value and true partnership in SupplyChainBrain's recent poll. Brad Berger, SupplyChainBrain's publisher, says "For 15 years running, SupplyChainBrain has published our much-anticipated list of 100 Great Supply Chain Partners — a select group of companies whose customers recognize them for providing outstanding solutions and services. Our six-month online poll of supply chain professionals requires a qualified response, asking them to nominate vendors and service providers whose solutions have made a significant impact on their company's efficiency, customer service and overall supply chain performance. This year's field of nominees was abundant and very strong, hailing from all aspects of supply chain management. MEBC should be proud to be named amongst the 100 Great!"
"We have an internal motto here at MEBC which is to 'Partner with Clients for Life'," said MEBC Vice President Grant Lock. "The respect and appreciation of our customers is a testament to the supply chain knowledge and technology expertise and dedication of our employees. So we look forward to adding more new customers to our growing list of 70+ clients that have repeatedly partnered with MEBC over the last 15 years. We are incredibly grateful to our clients who have recognized our team's efforts and value our partnership. To all our clients – we sincerely thank you."
MEBC Inc. will appear in the 2017 July/August issue of SupplyChainBrain magazine as an honored member of this year's 100 Great Supply Chain Partners. MEBC continues to look for innovative methods and tools to provide supply chain planning consulting and technology services for clients in the manufacturing, consumer packaged goods, and retail / wholesale distribution industry segments.
About MEBC
MEBC is an ESOP company of Supply Chain Thought Leaders and Technologists who align People | Process | Technology to drive our clients' success. MEBC's employees bring practical knowledge of end-to-end supply chain processes with deep technical expertise in the SCM and ERP technologies that support them. MEBC has addressed the supply chain challenges of global Fortune 1000 and high-growth SMB companies along with Federal agencies. MEBC is also a premier JDA Software Alliance Partner – having received our fifth consecutive award from JDA for our innovation, technical expertise, and client services excellence.
MEBC. Supply Chain Advantage. DELIVERED.
To learn more, visit https://www.mebcglobal.com