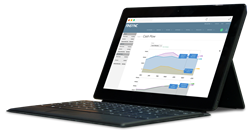 For any small business to grow, they need more of a partnership with their payment platform – specifically when it comes to great service, custom pricing and fast funding. Worldpay fills that gap quite nicely.
ATLANTA (PRWEB) July 25, 2017
FINSYNC, a fully-integrated accounting and payroll platform, and Worldpay US, a global leader in payments processing technology and solutions, are teaming up to speed up the approved cash flow of businesses.
Through the new collaboration, FINSYNC customers can now connect their account to Worldpay to receive fast funding on online invoice payments. Worldpay customers will also have the option to integrate their accounts to FINSYNC, allowing them to experience centralized, automated accounting, invoicing and payroll functions through FINSYNC's cash flow management software.
"We are excited to team with Worldpay and combine our payments platform with their payment processing capabilities to accelerate the speed at which money passes from business to business," explained Anna Maiolo, COO of FINSYNC. "For any small business to grow, they need more of a partnership with their payment platform – specifically when it comes to great service, custom pricing and fast funding. Worldpay fills that gap quite nicely."
Over the last three years, FINSYNC has worked to simplify and streamline how small- to mid-size businesses (SMBs) across various industries manage every dollar coming in and out of the business. FINSYNC's platform accepts payments by ACH, debit and credit cards, lockbox payments and via electronic billing. The platform also provides a full-service solution for processing payroll online including time tracking, tasking, reimbursements and other functionalities.
Customers who process incoming, outgoing and payroll payments through FINSYNC find accounting happens automatically in a paperless environment, which eliminates much of the effort and cost associated with traditional accounting and payroll applications. With FINSYNC's advanced business intelligence engine, all transactions will be automatically categorized and reconciled with invoices, empowering businesses to operate with less effort and real-time analytics.
Through a direct, reliable integration with Worldpay, businesses will be able to invoice customers online, accept payments from debit and credit cards and have usable funds within hours, not days. In fact, businesses integrated with Worldpay are eligible for fast funding, as opposed to waiting 48 hours or more with other payment platforms.
"Teaming with FINSYNC will enable our merchants to experience a new level of speed and efficiency in operating the payments and accounting functions of their businesses," said Mike Frank, President of Strategic Partnerships, Worldpay US. "Providing our customers with efficient solutions which save them both time and money is a top priority for Worldpay. Both FINSYNC and Worldpay are focused on taking a people-first approach to helping our customers, which makes our partnership a natural fit."
"From our founding, we set out to help entrepreneurs succeed by empowering them with greater control of cash flow, real-time analytics and valuable insights. This is a solid step in that direction with a partner with whom we can innovate long-term," Maiolo continued. "Worldpay offers great terms, pricing and fast funding, all of which are quite meaningful in the lives of customers who may need access to good funds sooner."
Businesses interested in faster payments and real-time, automated analytics can learn more about FINSYNC and Worldpay's collaboration at http://www.finsync.com/worldpay.
###
About FINSYNC
FINSYNC brings together financial management and accounting software services to help drive growth for small business owners. By harnessing the power of built-in business intelligence and real-time financial results within one fully-integrated solution, FINSYNC eliminates the need for numerous back office applications. Services include applications for invoicing, inventory management, payroll processing and bill pay. As sales ad financial transactions occur, the purpose-built platform keeps services connected and in sync to help bookkeeping happen automatically. To learn more, please visit http://www.finsync.com.
About Worldpay
Worldpay is a leading payments company with global reach. We provide an extensive range of technology-led payment products and services to around 400,000 customers, enabling their businesses to grow and prosper. We manage the increasing complexity of the payments landscape for our customers, allowing them to accept the widest range of payment types around the world. Using our network and technology, we are able to process payments from geographies covering 99% of global GDP, across 146 countries and 126 currencies. We help our customers to accept more than 300 different payment types.