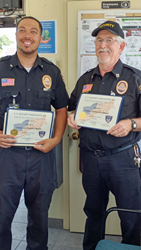 When you are faced with a life or death situation there is no time to think, no time to pull out a CPR manual, and absolutely no time to guess.
Atlanta, GA (PRWEB) July 25, 2017
U.S. Security Associates (USA) Security Officers Lieutenant Roderick (RJ) Nowlin and Captain Graham Humphreys performed nothing short of a miracle on July 14, 2017 when they successfully revived two-year-old Judah Anderton who had drowned in his family's pool. Unable to get a cell phone signal to call for an ambulance, and with the closest medical facility a thirty-five-minute drive, Judah's desperate and panicked parents, Benjamin and Angela Anderton, rushed him to the nearest certified first responders in their remote area of Lynchburg, VA-- the USA Security Officers on duty at Georgia-Pacific Big Island in Bedford County.
Security Officers Nowlin and Humphreys were in the process of checking in a truck at the Big Island mill when the Andertons drove up and frantically ran to the guard house carrying the lifeless body of Judah. Wasting no time, Officer Nowlin took the child and immediately began chest compressions while instructing Officer Humphreys to call 911. For over 5 minutes Officer Nowlin performed CPR on the child while they waited for paramedics to arrive. By the time the paramedics were on the scene, Judah had begun breathing but remained unresponsive. He was transported to University of Virginia Children's Hospital where he remained in critical condition until he was finally released on July 19, 2017 and is expected to make a full recovery. The Bedford County paramedics later said Judah had been unresponsive and not breathing for over 10 minutes prior to Officer Nowlin starting chest compressions. They advised any longer of a delay in medical response would have had a very different outcome.
The security company, committed to providing better outcomes to the clients and communities they serve, is proud of the heroic and lifesaving response their Officers provided to save the toddler's life. Both USA Security Officers credit their emergency first responder training for helping them save little Judah that day. Members of the executive team recognized both Officers with Distinguished Service Awards on Wednesday July 18, 2017 at Georgia-Pacific's Big Island mill. Harold Underdown, Senior Vice President, Security Force Development said, "Officer Nowlin's response is a testament to his training. When you are faced with a life or death situation there is no time to think, no time to pull out a CPR manual, and absolutely no time to guess. Officer Nowlin, did everything right and his unbelievable speed and instinctual response led to an amazing outcome for Judah and his family."
Georgia-Pacific is dedicated to ensuring the safety of all their employees and due to the remote area of the mill facility, all USA Security Officers on their site are state of Virginia trained emergency first responders. Timothy Chatlos, Public Affairs Manager for Georgia-Pacific stated, "The response and training of all the USA Security Officers at our site is outstanding. As a company, we value safety training and are proud to be recognized as an emergency response resource for the Bedford County local community. We are grateful our Officers were prepared to give the Andertons the emergency assistance they needed to save their son. We plan to join the Bedford County Sheriff's office and Fire Chief in recognizing Officers Nowlin and Humphreys for their heroic work at an award ceremony at Big Island EMS at 1:00 pm on Thursday, July 27, 2017."
ABOUT GEORIGA-PACIFIC BIG ISLAND
Georgia-Pacific is one of the world's leading makers of tissue, pulp, paper, packaging, building products and related chemicals. Headquartered in Atlanta, it is a subsidiary of Koch Industries, employing about 35,000 people at more than 200 facilities worldwide. Located about 15 miles north of Lynchburg on the James River, the 126-year-old Big Island mill employs about 330 people.
ABOUT U.S. SECURITY ASSOCIATES
U.S. Security Associates (USA) is the market-leading, wholly-owned, American, full-service safety and security solutions provider. With over 160 locally-responsive offices, international locations and over 50,000 dedicated professionals, they offer the most complete array of physical security, remote surveillance, and global consulting and investigations to ensure better outcomes for thousands of clients and a range of industries. Innovative applications of leading-edge, proprietary technology enable USA to rank annually among the world's best training companies, sustain the highest standards of quality, and underscore world-class customer service with unparalleled accountability. USA's rise as one of the largest innovative security solutions leaders is a natural byproduct of these differentiators and enables the company to provide the most Safe. Secure. Friendly.® environments for people, assets, and brands. For more information, visit http://www.ussecurityassociates.com.
###