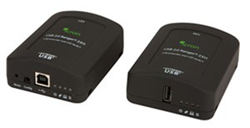 (PRWEB) July 26, 2017
KVMSwitchTech is excited to offer the new Icron 23xx series of USB 2.0 Ranger® Extenders. These updated versions of the incredibly popular and durable CATx USB extenders offer some great enhancements while preserving a tried and true efficient form factor. Among the great new features that customers can expect to find is the flexible power option in the USB 2.0 Ranger® 2311 unit. Where most of the older units required that the REX unit be powered, this unit has the ability to locate the power supply at the LEX unit. This feature addresses one of the oldest problems that many installers faced with limited power outlets in remote install locations with limited expansion capacity.
Whether extending a simple keyboard or a mouse; or whether your project requires the extension of a quality web camera, the Icron USB Extender product line offers the finest experience in transparent, plug-and-play USB interfacing. No drivers. No installers. And with the support of Cat5e, Cat6, and Cat7 cabling these units can quickly adapt to most existing cabling installations. If you aren't sure which unit is best for you, call and talk to one of KVMSwitchTech's friendly reps.
About KVMSwitchTech
KVMSwitchTech is a company dedicated to the idea that customer support is still the most important function in any business. With a staff whose experience in the KVM field spans multiple decades, they are sure to be able to help resolve any issues. Their technicians can be quickly contacted through either email or phone support without trying to navigate phone menus. Call today to start building a custom configuration.