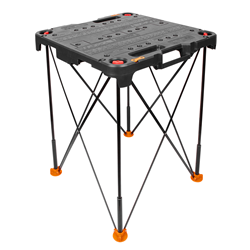 Charlotte, N.C. (PRWEB) July 25, 2017
The new WORX® Sidekick™ provides exceptional workstation portability and versatility. This trusty DIY companion sets up in less than a minute to create a 24 in. x 24 in. work surface. The tabletop then folds in half for easy carrying with built-in handles and convenient storage of the detachable leg set.
Weighing only 8 lbs., Sidekick is as tough and dependable as it is convenient. Its resin tabletop is reinforced with honeycomb construction and supported by a rugged, tubular-steel leg set that is powder-coated for corrosion resistance. Legs are equipped with non-skid feet, which help prevent slipping on bare floors or sinking into soft ground.
The versatile worktable can support workloads up to 300 lbs. Sidekick's working height is 32 in.
Sidekick has a myriad of work support and cutting applications for woodworking and carpentry projects. The compact, portable worktable serves as a sturdy tool stand for a WORX BladeRunner X2, bench-top table saw or miter saw.
Sidekick is equally at home in the garage, yard, driveway or wherever do-it-yourself projects may be located. It serves as a handy workbench for plumbing and electrical work, as well as a potting table.
But, Sidekick also has a lighter side. Use it as a grilling station; for tailgating; as a side table at card games and patio parties; at picnics, camping or RVing; for hobbies and more. Detach the leg set and kids can use the tabletop as a game board.
When used for cutting support, Sidekick features four clamp dogs that fit into a series of strategically positioned holes in the tabletop for holding dimensional lumber and other materials. Inch and millimeter scales also are molded into the tabletop.
Sidekick is designed to interlock with other Sidekick tabletops through Link-Lock. This allows two or more worktables to be joined in different configurations to create a bench that is sized for specific needs or multiple projects. Sidekicks also can be joined via Link-Lock with one or more WORX Pegasus™ Worktables to create a versatile shop work space.
Assembling Sidekick is quick and easy. Open the tabletop and unfold the leg set. The upper end of each leg is equipped with a twist lock that inserts into a slotted socket at each corner of the tabletop. Twist locks are inserted and turned to secure the tabletop to the leg set.
The process is reversed to fold the worktable for transport or storage. Twist locks are turned until aligned with the slots in the tabletop. Then, the leg set is removed, collapsed and enclosed between the folded halves of the tabletop.
The WORX Sidekick Folding Worktable (WX066, $59.99) is available at worx.com and online retailers including Lowes.com and Amazon.com. It is backed by the WORX 3-Year warranty.
To reach out to WORX social media links visit: Facebook: https://www.facebook.com/worxus?ref=hl; Twitter: https://twitter.com/WORXTools; Pinterest: http://pinterest.com/worxtools and Instagram: @WORXTools