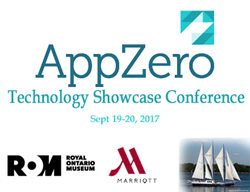 We will be sharing exciting news and breakthroughs regarding the automated Modernization, Monitoring and Maintenance of Windows server application stacks and hope you can attend!" - Nigel Stokes AppZero CEO
(PRWEB) July 27, 2017
AppZero is pleased to announce the final dates for it's inaugural Toronto User Conference and the expansion of event attendees. In the beginning, the User event was intended strictly for AppZero customers... however, given recent industry developments and malware attacks, people really want to learn more about AppZero, so the decision was made to expand attendance to a broader audience!
For registered attendees, The AppZero Technology Showcase will be held on September 19th and 20th 2017 in Toronto. The event will outline AppZero methodology for automated Window Server modernization and will provide a first-hand look at our new technology AZ-Maestro.
It will include visits to local highlights including a networking event at the world famous Royal Ontario Museum and an evening dinner boat cruise. The main conference, which is being held at the Toronto Marriott Downtown Eaton Center Hotel, will include application migration success stories, and a round table discussions with attendees and industry leading professionals.
If you'd like to register for this event and learn more about AppZero, please go to: http://www.appzero.com/techeventtoronto
Note: Attendance is free for qualified registered attendees (with the exception of accommodation and travel). Contact us for a discounted hotel rate.
Spaces are limited, sign up today!