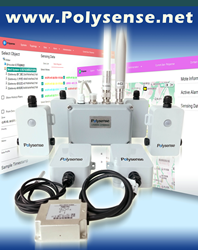 San Jose, California (PRWEB) July 27, 2017
Polysense Technologies, Inc. today announced the launch of the first worldwide LoRa IoT kit program for enterprise research labs, universities and academic institutions. The "University IoT Program for LoRa® Connectivity and universal sensing" will provide students and researcher with the necessary tools and education programs to learn and apply new connectivity and sensor technologies. The program focuses on Low-Power Wide-Area Networks (LPWAN) using LoRaWAN™. LPWAN is a wireless network designed for long range communications using low power consumption, long range, and low bit rate to connect a wide variety of "things."
The announcement follows the recent success of its first co-hosted event, which took place at the University of Chinese Academy of Sciences. The one-day event brought together students, faculty, and industry to identify a problem and build a solution utilizing sensors and LoRaWAN WxS 8800 sensor nodes, LoRa Gateway, and iView, from Polysense.
According to Research and Markets, the Low Power Wide Area Network market is growing at a CAGR of 90.03% during the forecast period 2016-2022. "The size of the LPWAN market and the opportunity it affords for the next generation is significant," said Alex Wu, President of Polysense China. "By providing education and cutting edge IoT products and solutions, we provide an enormous opportunity for students and researchers and further promote new IoT ideas and applications. We are excited by the enthusiasm, creativity and designs from students, faculty, and researchers."
"Given the infancy of the large-scale IoT revolution, many schools and academic institutions have yet to effectively incorporate these new ideas into their curriculums," said Dr. Ping Yang, Professor at China National Institute of Metrology and executive director of China Acoustic Metrology Association. "Therefore, the opportunity to work alongside an IoT-based company, such as Polysense, is a great chance to obtain hands-on experience with emerging LoRaWAN technologies. We believe LPWAN technologies such as LoRa, combined with universal sensing, will have evolutional impact to measurement, metrology, and real time monitoring. We look forward to further cooperation in the area of big data analytics and data mining."
The broad initiative introduces the following benefits to all parties, in a win-win situation:

Opportunity to work with a leader in LoRaWAN technology
Integrated end-end, standards based, product kits with turnkey software for further customization
Significantly discounted products for evaluation and research
Visibility of the Universities program with press releases, case studies and workshops
Each kit comes with turnkey software, 5 or 10 WxS 8800 sensor nodes of selectable sensor configurations, Multi-Purpose Interface (MPI) for external sensor connectivity, 1 LoRa indoor or outdoor Gateway, and 1 user license of Polysense iView open cloud data management platform, enabling study, experiment and research for an array of IoT applications:
Structure health monitoring (SHM) for buildings, bridges, tunnels, railways, oil platforms, with high precision sensing of vibration, inclination, displacement, crack
Precision agriculture applications such as vineyards, golf courses, tea plantation, with temperature, humidity, light and pressure above ground and soil moisture sensing under the soil (Volume Water Content, salinity, pH)
Machine condition and preventive maintenance for Industrial 4.0
Asset tracking, with GPS/Beidou location service and accelerometer for asset security protection
Perimeter security of industrial campus or important facility, with PIR motion sensing, acoustic sensing, poisonous and explosive gas detection (such as power and chemical plants)
Fire detection and monitoring for forest, parks, industrial campus (such as power and chemical plants), historical site, tunnel
Smart city applications such as street noise measurement, environmental quality measurement, street light control, parking lot management, city infrastructure security
"We are excited to join Polysense's University IoT Program as it exemplifies our mission to offer students and researchers hands-on, real world experience working with the latest technologies," says Dr. Yuanxun Zhang, professor and executive dean at College of Resources and Environment, dean of Department of Teaching and Academic Affairs, University Of Chinese Academy of Sciences University. "Our students and researchers are eager to let their imaginations run as they explore new ideas working with leaders in LoRaWAN technologies and growing their knowledge base here at the University Of Chinese Academy of Sciences."
Availability
Polysense's University IoT Kit Program is in mass production and immediately available for ordering.
Please contact Polysense for further ordering and pricing information.
About Polysense
Located in Santa Clara, California, heart of the Silicon Valley, also with offices in Beijing and Shanghai, China, Polysense develops products and solutions for Industrial IoT and smart homes, including distributed fiber sensing, LPWAN LoRa and NB-IoT based wireless IoT sensors, Passive Optical Network (PONs) and cloud based data management and analytic platform.
Press Contact: katherine Yang
Email: kyang(at)polysense.net
Phone: (408) 800 7728
Web: http://www.polysense.net