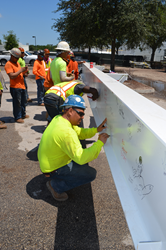 JACKSONVILLE, Florida (PRWEB) July 24, 2017
Contact: Katy Klaproth, Division Marketing Director
(407) 916-7235, kklaproth(at)robinsmorton(dot)com
Robins & Morton, Perkins Will, Newcomb & Boyd, Walter P Moore and honored guests joined together to celebrate the structural topping out of the new Destination Medical Building located at Mayo Clinic in Jacksonville, Florida.
The 190,347-square-foot, five-story new facility provides outpatient services including hematology oncology clinics and neurology/neurosurgery clinics. The facility will include infusion areas as well as departmental exam rooms.
During the Topping Out Ceremony, each attendee signs a beam that is then hoisted into place. This beam marks the structure completion. The signatures symbolize each individual's support and contributions to the project. Hospital employees, community members, and the project team members attended the event.
The Destination Medical Building is scheduled to be completed in Summer of 2018.
###
About Robins & Morton
Founded in 1946, Robins & Morton is a privately held construction firm that consistently ranks among the 100 largest U.S. contractors in Engineering News-Record Magazine. The company has also been named one of the best mid-sized companies to work for in America because of its worker-friendly and family-friendly practices. Robins & Morton is based in Birmingham, Alabama, with offices in Dallas, Texas; Huntsville, Alabama; Orlando and Miami Florida; Nashville, Tennessee; Charlotte, North Carolina. For more information, visit http://www.robinsmorton.com.