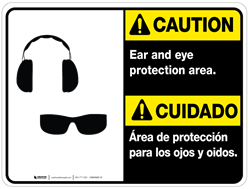 Beaverton, OR (PRWEB) July 25, 2017
In its ongoing mission to break through the communications barriers that can make a workplace needlessly hazardous, Creative Safety Supply has released a new line of bilingual safety signs featuring alert text in both Spanish and English. Crafted with the same impeccable quality standards you've come to expect from all Creative Safety Supply products, these signs are straightforward, highly visible, and designed to withstand even the harshest environments for years without cracking or fading.
From 'Do Not Enter' to 'Restrooms,' Creative Safety Supply's new offerings cover all of the most common workplace signs, and each order includes Whether you're looking for aluminum, PVC, adhesive, or even magnetic signs, Creative Safety Supply offers a variety of sizes and styles -- and in the rare event that you can't find exactly what you need, Creative Safety Supply's designers will work with you to create a custom sign that meets your specific needs.
For more info on Creative Safety Supply's new signs please visit creativesafetysupply.com or call (866) 777-1360 to speak with a representative.
About Creative Safety Supply 
Creative Safety Supply is an online retailer of safety and lean manufacturing supplies for the workplace. The company's LabelTac® industrial label printers, SafetyTac® floor marking tapes and other visual communication products aid employers in making their facilities more visual. Creative Safety Supply works with businesses of all sizes and across many industries to help them improve safety, efficiency and effectiveness.