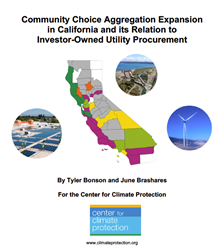 By late 2016 nearly half the counties in the state and over 300 cities were either operational or at some stage of evaluation of Community Choice. These facts alone warrant Community Choice agency staff having a seat at the table.
Santa Rosa, California (PRWEB) July 27, 2017
A new report by the Center for Climate Protection examines procurement of power by private utilities and related exit fees charged to their customers in the context of the growth of Community Choice Energy in California.
The report, "Community Choice Aggregation Expansion in California and its Relation to Investor Owned Utility Procurement," is authored by energy policy analyst June Brashares and Tyler Bonson, a graduate of Sonoma State's Energy Management and Design and in Economics. It unveils several key findings relating both to exit fees and to private utility procurement of power. The findings include:
Private utility load forecasts and the corresponding procurement decisions have underestimated the number of customers leaving private utilities for a Community Choice option, resulting in over-procurement of power by private utilities. This is contributing to the 21% energy glut forecast for 2020 in a Los Angeles Times investigation.
In late 2015 a nearly 100% increase in a previously obscure fee on Community Choice Energy bills in PG&E service territory upset many customers and concerned advocates for Community Choice Energy. The fee, known as the Power Charge Indifference Adjustment, or PCIA, is a fee meant to cover the costs of previous power purchases made on behalf of customers who have now exited their private utility and become Community Choice customers. It is often called an "exit fee."
The methodology by which the exit fee is currently calculated does not accurately or fairly accomplish its intent. The result has been volatile increases in exit fees that undercut Community Choice agencies. The exit fee's volatility, complexity, and lack of transparency put Community Choice customers at risk of unexpected, confusing, and potentially unfair cost increases.
The report recommends:
1. Initiating a transparent proceeding at the California Public Utility Commission dedicated to reforming the structure and nature of exit fees.
2. Adjusting load forecast procedures to ensure that power procurement plans fairly and correctly include Community Choice growth projections.
3. Establishing incentives for private utilities to reduce quantity and associated costs of current and future procurement contracts to minimize avoidable costs to Community Choice customers as well as their own customers.
4. Allowing appropriate Community Choice agency staff to review confidential protected energy data subject to a Non-Disclosure Agreement, enabling Community Choice agencies to verify private utility exit fee calculations.
"In the last three years, the rise of Community Choice Energy in California has been dramatic," said Ann Hancock, Executive Director of the Center for Climate Protection. "By late 2016 nearly half the counties in the state and over 300 cities were either operational or at some stage of evaluation of Community Choice. These facts alone warrant Community Choice agency staff having a seat at the table. This parity matters because all customers, big utility and Community Choice alike, must pay for the over-procurement of power by the IOUs."
To download the entire report and appendices, Community Choice Aggregation Expansion in California and its Relation to Investor Owned Utility Procurement with underpinning CCA/IOU Load Data Spreadsheet, prepared for the Center for Climate Protection by June Brashares and Tyler Bonson click on the below link:
https://climateprotection.org/wp-content/uploads/2017/06/Procurement-Report-June-21-2017.pdf
About the Center for Climate Protection:
The Center for Climate Protection keeps track of the growth with a dynamic interactive map, updated weekly, that includes Community Choice Energy status information about every city and county in the state at the Clean Power Exchange. Founded in 2001, the Center works with business, government, youth, and the broader community to advance practical, science-based solutions for significant greenhouse gas emission reductions. The Center's mission is to inspire, align, and mobilize action in response to the climate crisis. http://www.climateprotection.org
Contacts:
Ann Hancock, Executive Director, Center for Climate Protection
707-525-1665, ext. 112 | ann(at)climateprotection(dot)org
Woody Hastings, Renewable Energy Manager, Center for Climate Protection
707-525-1665, ext. 117 I woody(at)climateprotection(dot)org
June Brashares, Report co-author, Energy policy analyst
415-425-3733