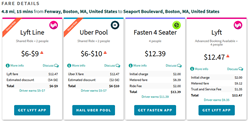 RideGuru helps to cut through the chaos by bringing a fair and equal voice to the smaller companies.
Boston, MA (PRWEB) July 25, 2017
RideGuru took on a major expansion, adding more than 50 rideshare companies to their site. RideGuru's mission has always been to bring transparency to the rideshare market by providing reliable fare estimates for rideshare and taxi companies around the globe.
With the recent boom of smaller, more niche rideshare companies, this transparency is more important than ever. Consumers now have multiple choices for ground transportation travel in almost every city around the world. RideGuru helps to cut through the chaos by bringing a fair and equal voice to the smaller companies.
Lillien Kenyon, the business and operations lead at RideGuru, expands on RideGuru's mission saying, "We have always wanted to create a fair platform for all rideshare companies, big and small. With a few big players dominating the rideshare scene, it can be difficult for some of the smaller companies to be seen, even if they have competitive pricing or fill a unique niche. Through our addition of many of these smaller rideshare services, customers can get an unbiased look at the current marketplace and choose the transportation company that best suits their needs."
Not only is the rideshare market booming with new companies, it is also seeing a shift toward shared rides. Consumers are willing to share rides with strangers if it means a cheaper fare. RideGuru, to accommodate this trend, has added UberPool, Lyft Line, and Ola Share estimates in their Fare Comparison Calculator. With this new addition, users are able to see how much they can save by taking a shared ride over an Uber X or traditional Lyft.
Ippei Takahashi, the CEO/President of Unleashed, LLC, states, "This feature has been one of the biggest asks from our users, as the pricing rules for shared rides are very cryptic and difficult to estimate. While these offerings by Uber and Lyft are still unproven, this can be a very promising option for users to save money. Are users willing to take longer trips and sacrifice comfort for cheaper fares? We are thinking yes, but it may be limited to certain demographics."
Takahashi also adds, "At RideGuru, we strive to be the most reliable and comprehensive resource for people who utilize on-demand ground transportation. Supporting UberPool, Lyft Line, and many of the smaller 'challengers' shows our commitment to this mission."
For a full list of the companies that are currently supported on RideGuru click here.
About RideGuru
RideGuru, a product of Unleashed, LLC, is an all-inclusive rideshare and taxi information source.
RideGuru is not another transportation service, instead, it is a free search engine to help you find the best ride from point A to point B. It scours rates from hundreds of services worldwide to bring you the best deals.
About Unleashed, LLC
Unleashed, LLC is a Boston-based technology company that specializes in creating websites and smartphone applications to provide users with the information they need for daily decisions. The company is best known for creating the popular travel site TaxiFareFinder.com. TaxiFareFinder, released in 2007, is an online resource for all things related to taxis and rideshares. TaxiFareFinder is best recognized for its groundbreaking, location based, taxi and rideshare fare calculators.