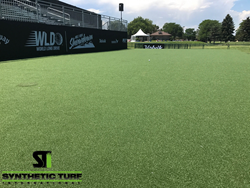 Working with STI has been flawless. From the early stages of planning to execution onsite. The STI team looks at our project as it is their own and ensures it's perfect for our hitters - Colin Turner, Director of Events
Dalton, GA (PRWEB) July 25, 2017
Dakota Harp, Business Director of Synthetic Turf International® (STI) is excited to announce the partnership between STI and the World Long Drive Mile High Showdown (Golf Channel) on Tuesday July 25. "We are excited to be a part of the World Long Drive Mile High Showdown in Denver. The stage is set for an epic competition, with the best long drivers in the world on the best synthetic turf," stated Harp.
STI provided 1800 square feet of turf, including Pro Ball Turf and the EZTee® Poly product. When asked why World Long Drive continued to choose STI, Colin Turner, Director of Events, had this to say: "We choose to use synthetic turf because of the consistent surface that it offers. WLD athletes taking part in these sanctioned events have an expectation that the conditions will match the high level of competition at each event throughout the season. Having a reliable hitting surface is paramount in ensuring we are able to operate these events in the utmost professional way," adding, "Working with STI has been flawless. From the early stages of planning to execution onsite. The STI team looks at our project as it is their own and ensures it's perfect for our hitters."
This year's Volvik World Long Drive Championship, which also airs on the Golf Channel, is located in Thackerville, Oklahoma (August 31 - Sept 6).
Kevin Barker Vice President of Sales and Marketing is thrilled to continue the STI tradition adding, "We are honored to be partnering with the World Long Drive Championship for a second year in a row. The athletes that participate in this event are amazing to watch and every year leave us in awe of the skill they have. Our company has a long history in the golf segment. For over 25 years, we have been producing golf products ranging from putting greens, hitting mats, landscape turf and even our most sought after product called EZTee®.
STI's newest commercial will air during live coverage of the Mile High Showdown in primetime on Golf Channel from 7-9:30 p.m. ET on Tuesday, July 25, with Golf Central previewing and recapping the event (9:30-10 p.m. ET).
About World Long Drive
World Long Drive (http://www.worldlongdrive.com) has emerged as one of golf's most popular grass-roots, sporting events. The competition is open to amateur and professional golfers alike. With an Open Division, Masters Division (Ages 45+) and Women's Division, the sport appeals to golfers of all ages – whether you're a competitor or spectator. The competition runs from late-spring to mid-fall, building up to an exciting culmination at the World Long Drive Championship – where champions from around the world come to compete for the world title.
The adrenaline-drenched Championship has been described as "golf's greatest spectacle" with competitors crushing 400+ yard drives. Competing in front of packed grandstands and under the bright lights of Golf Channel cameras, the World Long Drive Champion takes home a payday of $125,000, bragging rights and is awarded the coveted title belt.
About Synthetic Turf International
Established in 1995, Synthetic Turf International (STI) is committed to helping others Experience a Greener World in places where natural grass doesn't easily grow by delivering the highest levels of quality, ethics and support. Our outstanding network of over 100 dealers delivers superior golf tee lines, putting, chipping and target greens installations. Leveraging our expertise in the golf market, we also provide synthetic turf solutions for thousands of playgrounds, landscape projects, doggie daycares and indoor sport facilities throughout North America. STI is recognized as the leading manufacturer and installer of the highest quality synthetic turf in the industry.
About Controlled Products
Headquartered in Dalton, Georgia, Controlled Products (http://www.cpturf.com) produces the highest quality synthetic turf in the industry for every possible application. Sustainability, innovation, research, the ability to customize deliverables and the use of advanced, state-of-the art technology are key priorities for the organization. Established in 1989, Controlled Products is an ISO 9001, ISO 14001 and OHSAS 18001 company. As a founding member of the Synthetic Turf Council (STC), and a STC Certified Manufacturer/Supplier, their expertise is unmatched in the industry. Their synthetic turf products are currently in use in thousands of athletic fields, playgrounds, landscape projects, golf courses and indoor sport facilities throughout the world. To learn more, visit http://www.cpturf.com, call (800) 562-4492 or contact the company at Controlled Products, LLC, 200 Howell Drive, Dalton, Georgia 30721.