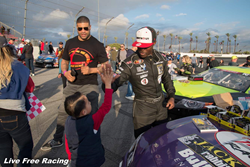 This season so far has been a great test of the durability of our team
Los Angeles, CA (PRWEB) July 25, 2017
Perfect Hydration has signed a six-race sponsorship deal with US Naval Officer turned NASCAR K&N Pro Series driver Jesse Iwuji of Patriot Motorsports Group for the remainder of the NASCAR K&N Pro Series West Season. Perfect Hydration, the 9.5+ pH Alkaline Electrolyte Water, is one of the fastest growing water brands on the market today. It is surcharged water for supercharged hydration.
Iwuji currently sits 15th in NASCAR K&N Pro Series West standings with hopes of breaking into the Top 10 in points as he did in 2016. Iwuji says "This season so far has been a great test of the durability of our team" said Iwuji. "We've managed to bring home clean racecars which allows us to spend more time on trying to improve the cars and the way we race other teams this year in the West."
3x NFL Pro Bowl Linebacker Shawne Merriman who played for the Los Angeles Chargers and Buffalo Bills led the charge on securing this sponsorship for his #36 team. "It's ground breaking, being a rookie all over again in another sport and we're excited to have a brand like Perfect Hydration™ onboard," Merriman stated. "This is just the first step to a long lasting relationship and future plans with our new sponsor. We're honored and thrilled to make way in the sport of NASCAR."
With six races remaining on the schedule including Iowa Speedway, Kern Country Raceway Park, and Meridian Speedway, Iwuji is looking to make significant gains in the point standings. Iwuji is 12 points behind 13th place Rich DeLong III and 55 points behind 10th place driver Matt Levin. Perfect Hydration is coming on & supercharging the team's awesome momentum. "I've raced these tracks, I'm here to compete, and I'm ready to maximize the capabilities of our team," says Iwuji.
Perfect Hydration™ aligns perfectly with Merriman's clothing line, Lights Out. "Lights Out is about doing ground breaking things, living outside the box, knowing that anything can get accomplished by believing in yourself no matter what," says Merriman. "Great things to come from these two great brands."
With Perfect Hydration jumping on board with Lights out, next season is looking promising for the US Naval Officer and Carrollton, TX native. "This is just the beginning – we are looking to the future" said Iwuji. "we're looking forward to continuing to progress our racing program with Perfect Hydration and Lights Out!"
Be on the lookout for the No. 36 Perfect Hydration/Lights Out car in the NASCAR K&N Pro Series West.
About Perfect Hydration
Stratus Group Beverage is the brand owner of Perfect Hydration™ 9.5+ Alkaline Electrolyte water. Purified to its cleanest form by a 9-stage filtration process, Perfect HydrationTM is enhanced with a proprietary blend of minerals and electrolytes for perfect taste, and ionically charged to a pH of 9.5+. Perfect Hydration 9.5+ pH Alkaline Electrolyte Water is way more than just the cleanest form of purified water. It's ion-ized! It's electrol-yzed! It's mineral-ized! It's alkalin-ized! It's supercharged water.
Take it with you, explore the world, break free, accomplish greatness and find your Balance for Life.
Perfect Hydration™ 9.5+ Alkaline Electrolyte water can be found and purchased at your local Costco.
Interviewer: Christian C. Koelle, OnPitRoad.com
For more information on Perfect HydrationTM:
http://www.perfect-hydration.com
For more information on Jesse Iwuji:
http://www.facebook.com/jesseiwujiracing
For more information on Shawne Merriman & Lights Out
http://www.lightsoutbrand.com