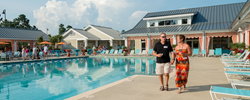 Resort-style Master Planned Communities
Wilmington, North Carolina (PRWEB) July 25, 2017
According to Real Estate Scorecard, seasoned real estate developers are building 'vacation playgrounds' right within their neighborhoods. Places with resort-style swimming pools and spas, great lawns for outdoor concerts and entertainment, and convenient ways to access a prime waterway for kayaking adventures and more. Why? The demand is high. American's are spending over $200 million a year to experience this 'happy state' as often as they can.
Real Estate Scorecard checked in on one of these type of places known as one of the best neighborhoods in Wilmington NC. Brunswick Forest began development in 2009 by Lord Baltimore Properites, a company dating back to 1911 when Louis Blaustein founded Amoco Oil. Their financial strength has provided a strong backbone for the community and the capability to build these kind of expensive lifestyle amenities while keeping annual homeowner association fees low, at less than $200 a month. This provides access to the community's state-of-the-art 18,000 square foot wellness center, three swimming pools, eleven tennis and pickleball courts and dining venue. Golf at Cape Fear National is an optional membership.
Refined, relaxing and refreshing are ways they would describe the Wilmington NC real estate development. Over 1,000 families live here today. This is not a plain vanilla neighborhood. They love the super-sized sidewalks and coastal landscaping. With over 200 days of sunshine, there's so much to do here. Here's a quick peek at the July & August activities calendar:
Brunswick Forest Community Events
Whether folks enjoy golf, gardening or a vigorous workout at the gym, when one lives in the neighborhood, these fun lifestyle activities are available without ever needing a car. Brunswick Forest has such a fantastic pedestrian and bike friendly trail system within the community. Connecting to The Villages at Brunswick Forest, residents can bike ride or walk to the grocery store, a coffee shop, bank or doctor. The 160-acre town center is made up of more than 500,000 square feet of retail, dining, medical and professional establishment. This includes the 40,000 square foot New Hanover Regional Medical Center.
With such an extension trail system (over 100 miles) and outdoor amenities, Brunswick Forest is naturally pet friendly. In addition to the pet friendly trails, a four-legged best friend has his own dedicated off-leash dog park named Meadow Park. A very popular place for picnics and game of catch. One will be hard pressed to find active retirement communities in North Carolina that are more pet friendly.
Folks who are interested in a new home or a resale in one of their charming neighborhoods, the experience is the same. The Brunswick Forest team is dedicated to helping you find the perfect home that suits your style and budget in this award-winning, amenity-rich community. There's always a dozen or so model homes to explore.
Accessing their Discovery Package is a great way to experience one of the best neighborhoods in Wilmington NC. The Brunswick Forest Discovery Package Includes:
3 days and 2 nights of accommodations for two, onsite or in a nearby hotel
Time to explore historic Wilmington, just minutes away, as well as the surrounding beaches. They will customize a visit to include the sights and attractions that interest one most.
Personal VIP tour of Brunswick Forest's neighborhoods, amenities and extraordinary natural beauty.
Round of golf for two at Brunswick Forest's very own Cape Fear National championship course.
Owner-for-a-day privileges at all amenities, including the 18,000-square-foot Fitness & Wellness Center offering tennis, indoor and outdoor pools, exercise classes and cardiovascular equipment.
Lunch for two either poolside at the Fitness & Wellness Center or greenside at Cape Fear National.
Accommodations can be limited, so call Brunswick Forest directly today to make a reservation: 866-831-8382.
About Real Estate Scorecard:
Real Estate Scorecard writes unbiased real estate reviews providing in-depth information about popular gated communities in Florida, Georgia, the Carolinas and Tennessee and Central America, all in an effort to help people discover where to retire in the South.
Website: http://realestatescorecard.com