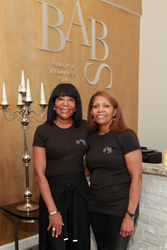 "We can't wait for metro Detroiters to experience the calming atmosphere of BABS in our convenient downtown Birmingham location."- BABS Co-Owner, Bernadette Blanchard
BIRMINGHAM, Mich (PRWEB) July 24, 2017
Longtime friends today become business partners with the grand opening of BABS Salon & Wellness Spa in Birmingham. BABS is a full-service salon and spa offering the ultimate in relaxation, wellness and beauty services. Partners Vivian Pickard and Bernadette Blanchard promise an experience that leaves patrons refreshed and looking their best.
"Our mission will always be to exceed our customers' expectations," notes Pickard, the recently retired President of the GM Foundation. "Bernadette and I have known each other for years and are looking forward to offering our clients the kind of service we would expect from a luxury destination."
The newly renovated space that BABS calls home has been designed with elegance and relaxation in mind. Design thoughtfulness and care help the salon become an oasis for every guest by creating beautifully appointed private suites for each guest service. This location also offers free parking on the side and rear of the salon, a rare commodity in downtown Birmingham.
Services offered at BABS include hair, makeup, nails, skin care, and massage. Veteran stylists, aestheticians, massage therapists and nail technicians have made a new home at BABS much to the delight of their faithful clientele. Pickard and Blanchard are excited to add Natalya Ostapenko, aesthetician and former owner of the recently closed Renaissance Spa in Bloomfield Hills, and Bashar Kallabat, former owner of Bashar Salon in Birmingham, to the partnership.
"Our aestheticians and massage therapists are well known in the community," Pickard says. "They are experts in their craft and have established a loyal following as a result. We're so blessed to have them here at BABS."
Pickard's business savvy pairs well with Blanchard's beauty industry experience as a salon and spa owner. Blanchard is an expert stylist and has been a leader in the field for more than 30 years. She specializes in all aspects of hair styling including color correction, precision cutting, hair straightening, hair extensions and wig customization.
"Vivian and I have been talking for years about partnering," Blanchard notes. "The timing wasn't right until now. We can't wait for metro Detroiters to experience the calming atmosphere of BABS in our convenient downtown Birmingham location."
Fully staffed, BABS will employ between 12 and 15 people. The BABS team looks forward to hosting groups in the salon for employee appreciation events or simply a fun girls' night out.
"Down the road, we also plan to host various lecture series addressing a range of health and wellness topics for our clients," Pickard says.
In a nod to her career with the GM Foundation, Pickard looks forward to continuing the legacy of supporting women.
"The wellness piece is really important to me," she says. "BABS is about both beauty and body services."
BABS Salon & Wellness Spa is located immediately North of Lincoln on the East side of Woodward just South of the Wells Fargo bank. Ample parking exists on Worth Street and in the lot behind the salon. For more information on BABS Salon & Spa, visit http://www.babssalonandspa.com. Call 248-593-6993 to book an appointment.
*****
BABS is a full-service salon and spa promising the ultimate in relaxation, wellness and beauty services. Located at 1077 S. Worth Street in Birmingham, MI, BABS offers a full range of services including hair, makeup, nail and skin care, and massage therapy. Visit http://www.babssalonandspa.com for more information or to book an appointment.