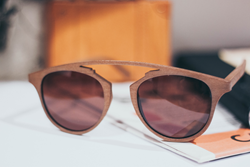 We're allowing designers the freedom of their creativity without having to worry about all the entry barriers to the market
BARCELONA, SPAIN (PRWEB) July 25, 2017
Binokers, the Spanish company that produces high-quality 3D printed sunglasses with a large variety of design possibilities, has launched on Kickstarter.
Those looking to create their own brand of sunglasses can submit a design and an investment of no more than $570. From there, the team of designers and printers at Binokers will then take care of making the proposal viable and of producing the first prototype.
Once approved, the sunglasses model will be uploaded to the Binokers website, for its sale and distribution at a price that will vary from $120-$220 per unit, with the designer receiving commission for every pair of sunglasses sold.
"We're allowing designers the freedom of their creativity without having to worry about all the entry barriers to the market," said Binokers co-founder Albert Gibert. "Thanks our 3D technology, we are managing to drastically reduce the investment required to create a line of sunglasses; opening a range of design possibilities."
In June, Binokers released its first 10 models of sunglasses, produced from designs devised by people interested in releasing their own line.
These models will serve as rewards for the Kickstarter campaign, Binokers's last step before getting on the market, and being able to fulfil its promise of democratizing design and marketing of sunglasses.
The first Binokers's models are now available on Kickstarter. For more information visit the Binoker campaign page on Kickstarter.
About Binokers
Binokers takes the advantage of 3D design and printing technology in order to transform a sunglasses design idea into a reality. This makes it possible for any person with a minimal knowledge of design to launch his or her own line of sunglasses with a very low investment where they will receive a commission for every pair of their sunglass design that is sold.
Founders Albert Gibert and David Mazo received first prize in the 7th edition of the Yuzz entrepreneur program in Barcelona, sponsored by the Banco Santander.
Albert is a graduate in Business and Administration in La Salle Bonanova, and he has a graduate degree in Human Resource Management in the Barcelona School of Management. His interest and knowledge for the optical industry and for entrepreneurship has come from his father, the owner of an important company in this sector, in Barcelona.
David, on the other hand, is a Superior Technical Engineer by the UPC and an Aerospace Engineer by SUPAERO-ISAE in Toulouse. He is specialized in 3D printing in the aeronautics sector, and currently he contributes technical knowledge to Binokers.
You can follow some of their progress on Facebook and Instagram.