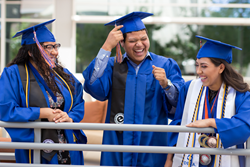 Elevate Phoenix students -who are primarily first generation high school graduates- are preparing themselves to make their goals of having hope for a future a reality.
(PRWEB) July 25, 2017
For the last 6 years, Elevate Phoenix has had the privilege to partner with our Maricopa County Community Colleges, Business Leaders, and other organizations which has been instrumental in helping hundreds of low-income, at-risk urban youth succeed in college and beyond through the R.I.S.E Program.
R.I.S.E. stands for Relationships, Instructing, Supporting and Equipping at risk urban post-secondary students. Through this program, Elevate Phoenix students- who are primarily first generation high school graduates- are preparing themselves to make their goals of having hope for a future a reality. These students start the program the summer after they graduate. They participate in two classes and a Math Boot Camp experience which provides the opportunity to gain six college credits by the end of the program.
Elevate teacher mentors come alongside of the college staff for each student to receive personalized assistance with financial aid and academic advisement. They learn about resources and services to help them be successful in their college endeavors. Elevate students have the opportunity to receive scholarships upon successful academic progress. They also participate in a variety of educational and cultural enrichment activities both on and off campus. Students feel supported because they are able to fully engage with the Elevate Phoenix staff who provide life mentoring, tutoring, and community service experiences for each individual. These opportunities are what forge the program's result of retention at 93%. Elevate Phoenix's committed faculty and staff serve as mentors providing R.I.S.E. participants with guidance and support throughout their academic journey. They know that high school graduation day is just the beginning. The US Department of Labor reported that 62% of all US jobs require a two or four year college degree. By the year 2020, this will increase to 75%. On average, approximately 54% of urban high school seniors graduate. At Elevate, we work to ensure that more of our seniors are graduating and enrolling in college.
Out of 28 students in the RISE Program we had 1 "C", 6 "B's" and 21 "A's" which made our GPA average go up from a 1.75 average coming out of high school to over a 3.6 GPA average for these students starting their college career. 100% of the students have a post-secondary plan. The majority will continue to pursue community college, a few are going to a trade school, a couple are going into the military, and a handful are planning to work until they can find out what will happen with their DACA status. Math Boot Camp- which our graduating seniors attend- helps to provide remediation to prepare them to enter college courses. The Boot Camp has helped many of these students place at least one course higher in college than they would have if they had not participated in the camp. For example, last summer, prior to Boot Camp, only 12% of the students placed into college-level courses. In addition, 14% of students placed into the lowest Developmental Course and 25% placed into Beginning Algebra. After Boot Camp, and retesting on the last day of the camp, 54% of our students placed at least one course higher!
This year 33% of students placed at least one course higher! Before camp, 19% tested college-ready, but after camp that number more than doubled to 43%. We have experienced similar results over the past several years. The Boot Camp not only better prepares the students for college, but it also saves them money by not having to take lower-level courses that don't count towards their academic program of study.
This is especially significant when considering the demographics of our students -- 80% Hispanic, 12% African American, 2% Asian, 1% American Indian and 5% Caucasian. A full 85% of students come from low-income families. The vast majority are the first in their family to graduate high school and enroll in college. Yet, these students have worked hard to stay in school, graduate, and enthusiastically enroll in college so they can have a better and brighter future.
To learn more please contact us at http://www.elevatephoenix.org, Jazmine Hall 480-510-8708 3750 W Indian School Rd. Phoenix AZ 85019