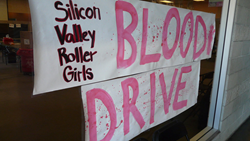 San Jose, Calif (PRWEB) July 26, 2017
Six greater Bay Area roller derby leagues are partnering with Brown Paper Tickets and the American Red Cross to save lives with "Make 'em Bleed," the most widely attended series of blood drives in California, beginning July 29. Make 'Em Bleed roller derby blood drives have collected more than 900 units of blood over the past 4 years -- enough to have helped to save up to 2700 lives.
"The Make 'Em Bleed blood drives provide a fantastic atmosphere, with roller derby athletes skating in uniform, refreshments, giveaways and an all-around good time," said Justin Mueller, representative for the American Red Cross." The summer is one of the most difficult times for the Red Cross to collect blood, so Make 'Em Bleed has really made a difference to help ensure blood is available for patients in need."
In 2017, the Make 'Em Bleed roller derby blood drive series has grown into a national blood drive series with leagues hosting blood drives across the US and is part of World Roller Derby Week, Aug. 13-19, a series of events celebrating the 82nd birthday of the invention of the sport by Leo Seltzer in 1935. Roller derby is one of only three major sports invented in the United States, inspiring generations of athletes and fans. Currently, almost 2000 women's, men's and junior leagues are skating, competing and giving back to their communities worldwide.
The Make 'em Bleed roller derby blood drive series was created by Brown Paper Tickets and Jerry Seltzer, the Sonoma-based son of the inventor of roller derby, inspired by the success of annual Santa Cruz Derby Girls' blood drives.
"Community service is written in the charter of most roller derby leagues, so partnering roller derby with Not-Just-For-Profit ticketing company Brown Paper Tickets and the American Red Cross is a match made in heaven," said Seltzer, who is currently a representative for Brown Paper Tickets. Brown Paper Tickets is also the top seller of tickets to roller derby events worldwide.
To schedule a convenient appointment to donate, call 1-800-RED CROSS or visit redcrossblood.org and enter the sponsor code: DERBY. Walk-ups are welcome, but appointments are encouraged and recommended.
The 2017 California "Make 'em Bleed" roller derby blood drive series:

Saturday, July 29 (San Jose): Join the Silicon Valley Roller Derby from 10 a.m. to 4 p.m. at Silver Creek Sportsplex, 800 Embedded Way.
Friday, Aug. 18 (Santa Cruz): Join the Santa Cruz Derby Girls from 9 a.m. to 3 p.m. at Santa Cruz Strength, 151 Harvey West Blvd Suite D.
Friday, Aug. 18 (Livermore): Join the Quad City Derby Bombshells at a time to be announced at Asbury United Methodist Church, 4743 East Ave.
Friday, Aug. 25 (Santa Rosa): Join the Resurrection Roller Girls and the Sonoma Roller Derby; at a time to be announced at the American Red Cross, 5297 Aero Drive. Both leagues have teamed-up for this blood drive in competition for which league can attract the most blood donor registrants, in competition for the Brown Paper Tickets cup.
Saturday, Dec. 2 (Antioch): Join the Undead Bettys at a time and place to be announced.
Follow the roller derby blood drives at #makeembleed. Any roller derby league wishing to bring the Make 'Em Bleed roller derby blood drive series to their hometown should email organizers at derbyblooddrive(at)gmail(dot)com.
###