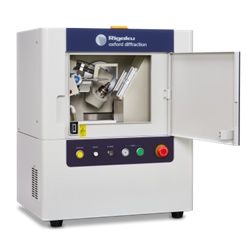 The Woodlands, Texas (PRWEB) July 25, 2017
Rigaku Corporation is pleased to announce its attendance at the 254th American Chemical Society National Meeting & Exposition (ACS) in Washington, D.C., Sunday, August 20, 2017 through Thursday, August 24, 2017.
The exposition will be held at the Walter E. Washington Convention Center, where the new Rigaku benchtop single crystal X-ray diffractometer - the XtaLab mini II - will be shown.
In addition, Rigaku will be presenting its lines of benchtop X-ray diffraction (XRD), and X-ray fluorescence (XRF) spectroscopy instrumentation at Booth 1710.
The theme of the event will be "Chemistry's impact on the global economy." Lectures and a plenary session promoting understanding of how chemistry can provide solutions the world's mounting challenges and bring about a better world will be held, along with a number of symposia and special events.
About Rigaku
Since its inception in Japan in 1951, Rigaku has been at the forefront of analytical and industrial instrumentation technology. Rigaku and its subsidiaries form a global group focused on general-purpose analytical instrumentation and the life sciences. With hundreds of major innovations to their credit, Rigaku companies are world leaders in X-ray spectrometry, diffraction, and optics, as well as small molecule and protein crystallography and semiconductor metrology. Today, Rigaku employs over 1,400 people in the manufacturing and support of its analytical equipment, which is used in more than 90 countries around the world supporting research, development, and quality assurance activities. Throughout the world, Rigaku continuously promotes partnerships, dialog, and innovation within the global scientific and industrial communities.
For further information, contact:
Michael Nelson
Rigaku Global Marketing Group
tel: +1. 512-225-1796
michael.nelson(at)rigaku(dot)com