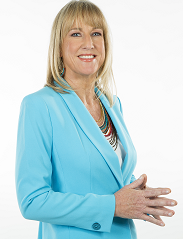 "With an aging population, the United States will see an increase in cases of age-related vision loss."
Fort Lauderdale, FL (PRWEB) July 26, 2017
Lesa Kretschmer, Founder and CEO of Florida Vision Technology has dedicated over 23 years to helping people with vision loss regain their independence. The Florida Vision Technology store opened in 2003 inside the Lighthouse of Broward, in Fort Lauderdale, and has been growing ever since. Her success can be attributed to expert product knowledge and exemplary customer service – i.e., matching the client with the right assistive technology according to their vision, abilities, and lifestyle.
"There are many reasons why people experience vision loss", explains Kretschmer. "Macular Degeneration, Retinitis Pigmentosa, Diabetic Retinopathy, Glaucoma, and eye injuries are just a few of the causes. And with an aging population, the United States will see an increase in cases of age-related vision loss. This will put additional responsibility on the family and care takers as the population ages," says Kretschmer.
Kretschmer adds, "In conjunction with medical eye exams, it's essential for people to have the right equipment and tools in order to operate as independently, and safely, as possible in their environment". The range of visual aids now available is extraordinary — and new advances are made daily.
John Ryan, Florida Vision Technology's store manager, is their on-site expert in assistive technology for the blind and visually impaired. John, visually impaired himself, has a unique understanding of the struggle, fears, and needs of those with vision loss. He has years of experience working with clients and assessing their equipment needs.
Kretschmer states, "One of our clients, Jane S., had this to say after her consultation":
'John Ryan is the person you want to know if you are losing your vision. He is the one you want to talk to, to show you the tools you'll want, and get all kinds of other useful info. I felt so good when I left there.'
Kretschmer stresses that those with vision loss need extra support to ensure they're comfortable with their new equipment. After all, some individuals may not have family readily available or access to care takers. Kretschmer goes above and beyond to ensure her clients understand how to use new equipment. For larger items, such as HD video magnifiers, she'll deliver the equipment to the client personally, set up the equipment, and provide training. Kretschmer explains, "Many of the people I visit are seniors, and they need help unboxing and setting up their new units. For all our clients, I want to make sure they know how to use their equipment so they get the maximum benefit to improve their quality of life. I want to give them a better tomorrow."
Florida Vision Technology offers the latest, cutting-edge technology to help those with vision loss get back to the things they love to do. New technology brings new solutions, and that sounds like a better tomorrow. Kretschmer adds, "Individuals should take advantage of the opportunities to experience products first hand to see if it's right for them. Our team can help those with vision loss reach those goals with personalized, one-on-one guidance."
About Florida Vision Technology
Lesa Kretschmer, Founder and CEO, has worked in the blindness and low vision industry for more than 23 years. She is committed to placing the best adaptive technology and products available today within reach of blind and visually challenged people of all ages and walks of life. 650 N Andrews Ave, Fort Lauderdale, FL 33311.