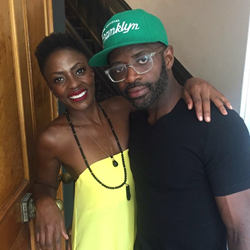 "MindMeet: It's like Airbnb for your Mind"
New York, NY (PRWEB) July 25, 2017
Serial tech entrepreneur Chinedu Echeruo and workplace visionary Pamela Abalu today announced the launch of MindMeet, a new platform designed to promote the sharing of knowledge.
Simply, MindMeet is the easiest way for people anywhere in the world to share their knowledge, inspire others and raise money for their charity. MindMeet extends the sharing economy to knowledge.
MindMeet connects passionate experts with those seeking inspiration, wisdom and advice. While there are many sources of knowledge today through the Internet, MindMeet is unique in that experts give advice expressly for YOU and YOUR needs.
MindMeet Co-Founders Pamela Abalu and Chinedu Echeruo emphatically believe that "the right advice from the right person at the right time, can change your life."
MindMeet allows knowledge seekers to gain access to the minds and experience of experts in domain categories. They are available in bite size time slots (15 minutes, 30 minutes and one hour) as in-person or virtual meetings. Fees charged by the expert are donated to his or her designated charity.

Now, an aspiring entrepreneur in São Paulo can tap life lessons and business advice from a seasoned tech entrepreneur in Silicon Valley.
A sommelier turned beekeeper can share advice for fostering healthy beehives with anyone in the world.
A 93-year old relationship expert and great-great grandmother can dispense life lessons and advice for navigating thorny family and relationship issues.
"Facebook, Twitter, LinkedIn, Instagram, Snapchat all have their own utilities and purposes," said Co-CEO Chinedu Echeruo. "We built MindMeet for your expanded consciousness—your 'storefront' where you disburse your accumulated expertise and help others on the same path. And, while you're helping an individual, you're also helping your cause because your fees are being donated directly to charity."
"As a recent college graduate, imagine how valuable 15 or 30 minutes would be with an HR specialist from Google," said Pamela Abalu, Co-CEO. "Or, an attorney contemplating a career change getting 30 minutes of wisdom from another attorney who has recently changed her life direction. That information is priceless and life-changing. We want to democratize knowledge to uplift and unleash human potential."
MindMeet collapses geographic boundaries and helps break knowledge free from traditional networks. For example, now you don't have to have attended Stanford University or Harvard Business School in order to "pick the brain" of a star alumnus. Simply access her or his MindMeet profile and schedule time as a video or in-person meeting. It's like Airbnb for your mind.
Prior to MindMeet, Chinedu founded two iconic Internet companies: HopStop and Tripology.com. Tripology.com was acquired in 2010 by Rand McNally and is now owned by USA Today. HopStop was acquired by Apple in 2013. Chinedu was named Black Enterprise Magazine's Small Business Innovator of the Year and listed in the magazine's Top 40 under 40. Forbes has cited him as one of "The Ten Most Powerful People in Africa."
A workplace visionary, award winning architect and Crain's 40 Under 40 honoree, Pamela delights in creating experiences that stimulate people to do their best and to be happy. Most recently, Pamela was Chief Architect at MetLife where she transformed MetLife's work culture through the delivery of human centered spaces.
MindMeet is the first company introduced by The Love & Magic Company, founded by Pamela and Chinedu. "We believe that #loveisthefutureofwork."
For more information, visit MindMeet at http://www.mindmeet.us.
Follow us on Instagram: @MindMeet.us
Like us on Facebook: @MindMeet.us
Follow us on Twitter: @MindMeet_us
Connect with us on LinkedIn: MindMeet.us
About MindMeet
MindMeet extends the sharing economy to knowledge. It is designed expressly to democratize knowledge. MindMeet recognizes the transformational power of the right advice at the right time in our human experiences.
About The Love & Magic Company
The Love & Magic Company is a startup studio based in New York. MindMeet is the first portfolio company introduced by The Love & Magic Company.
###
Media Contact
Andy Morris
Code Morris for MindMeet
andy.morris(at)codemorris.com
917.710.1802