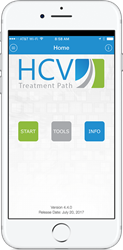 Altamonte Springs, FL (PRWEB) July 26, 2017
BioPlus Specialty Pharmacy (BioPlus), one of the nation's leading innovative specialty pharmacies, has released an updated version of the HCV Treatment Path app (version 4.4.0) to keep health care providers informed with the latest guidelines for treating chronic hepatitis C virus (HCV) infection. All of the latest HCV medications are included in this app, including Vosevi™ (sofosbuvir/velpatasvir) from Gilead Sciences that was approved by the FDA on July 18, 2017.
This updated edition of the HCV Treatment Path app offers prescribers guidelines and tools to streamline the selection of the hepatitis C treatment that is best-suited to individual patients, based on criteria from experts such as the FDA and the AASLD (American Association for the Study of Liver Diseases). This newly released version app addresses major changes to AASLD guidelines for both treatment naïve and treatment-experienced patients. In addition, the latest treatment options are included, such as the FDA's recent approval of Vosevi which is a once-daily pill used as salvage therapy in failed initial treatment of HCV genotypes 1-6.
"We're pleased to get this latest revamped version of the app into the hands of prescribers to guide their decision process for hepatitis C therapy. The treatment landscape for this disease is under continual change and this app keeps the latest information easily accessible," says Elvin Montanez, Pharm.D., Chief Operations Officer at BioPlus Specialty Pharmacy. "With so many medications available to providers, each with different guidelines and criteria, it is helpful to have one app to review all the latest information when designing an appropriate treatment plan for each patient."
Learn more about the HCV Treatment Path App here.
About BioPlus Specialty Pharmacy
BioPlus Specialty Pharmacy is a leading independent, national specialty pharmacy and the first and only specialty pharmacy to offer a two-hour turnaround from referral to patient acceptance. Our company celebrates 28 years of innovative excellence in specialty pharmacy, working closely with payers and the pharmaceutical industry, as well as with prescribers to get prompt treatment for patients, and directly supporting our patients nationwide to achieve optimal health outcomes. We provide a complete range of specialty services, including for hepatitis C, cancer, multiple sclerosis, and other complex, chronic conditions. BioPlus, a privately-held, pharmacist-owned company based in Altamonte Springs, Florida, is accredited by URAC, VIPPS, and ACHC with a Distinction in Oncology.
For information: http://www.bioplusrx.com or
Contact: info(at)bioplusrx(dot)com
Phone: 1-888-292-0744
###​