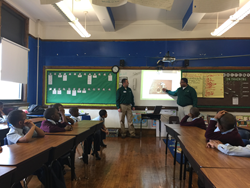 I can't believe how many questions all those kids had. The students just couldn't wait to put their hands up. I think we might have one or two future Green Pest Solutions employees in that bunch.
Philadelphia, PA (PRWEB) July 26, 2017
As adults looking back on our Elementary School days we tend to remember the special events our teachers and administrators organized over the day-to-day. While learning basic math and how to read and write were the building blocks of our elementary education, it's often the field trips, assemblies, and special class room guests that stick in our heads all these years later. The Southwest Leadership Academy Charter School in Philadelphia hosted one of these memorable events, by organizing a career day for their students.
Green Pest Solutions, the largest locally owned and operated pest control professional servicing the Philadelphia tri-state region were on hand to teach the young students about various kinds of pests and what working in the pest control industry is like. Three members of the Green Pest Solutions team, Tim Clowney (Operations Manager), Jermaine Little (Service Manager), and Ben Schloss (Marketing Manager) made the trip down to West Philadelphia. Upon arriving at the school they were welcomed by the event organizers and taken to classroom with the rest of the day's volunteers. Among some of the other career day volunteers were a nurse, a doctor, a lawyer, and a firefighter. A 5th grade student escorted the Green Pest Solutions team to the classroom where they would present to the SWLA male students ranging from Kindergarten to 4th grade.
The 4th grade students were up first. Each of the 40 or so boys was dressed in their uniforms consisting of white shirts and maroon ties. Some were also wearing their SWLA maroon seaters. Tim Clowney presented to the students from a Power Point presentation he had put together. After he gave a brief overview of Green Pest Solutions and the company marketplace he got right into what would be of most interest to his audience of nine-year old boys, pictures of bugs! Ants, bees, wasps, hornets, spiders, stink bugs, centipedes, Silverfish, cockroaches, bed bugs, and termites were all covered with interesting tidbits mentioned for each insect. Tim included pictures of a Norway rat, a house mouse, a field mouse and even Mickey Mouse for good measure.
The students were instructed by their teacher to hold all questions till the end of the presentation; however the kids couldn't help but raise their hands throughout Tim's roughly 15 minutes speaking. Once Tim was done going through the power point, he asked if any of the kids had any questions. Nearly every hand in the room went up. While Tim and Jermaine went around the room answering all of the great questions the students had, Ben passed out Magnets for the kids to take home and put on their refrigerator. The magnets were a huge hit with the kids.
The Green Pest Solutions crew went on to do their presentation to the 3rd grade, 2nd grade, and Kindergarten boys classes of SWLA. Jermaine took over presenting duties to the 2nd and Kindergarten classes and didn't miss a beat. Each class was polite and had a ton of great questions for the Green Pest Solutions team at the end of their session. The level of interest the students had collectively was palpable to the Green Pest Solutions team.
"I can't believe how many questions all those kids had. The students just couldn't wait to put their hands up. I think we might have one or two future Green Pest Solutions employees in that bunch." said Ben Schloss.
Time will only tell if some of the students present during the Southwest Leadership Academy Career day ultimately find careers at Green Pest Solutions or in the pest control industry, but it was clear that Green Pest Solutions participation in career day piqued an interest in some of the kids. Ultimately that is what a career day is all about. There are thousands of paths that these elementary school age kids could choose to take their professional lives when their careers as students eventually end years down the road and exposing them at an impressionable age to as many these career paths as possible will help to shape their future. Maybe, just maybe, some of those kid's futures will be a successful career in pest control.
Green Lawn Fertilizing and Green Pest Solutions is an independent lawn and pest control company that was founded in 2004. Under the leadership of Matt Jesson, President and Owner of Green Lawn Fertilizing / Green Pest Solutions, they are dedicated to becoming an industry leading company in the Lawn and Pest Industry. In 2012, 2013, 2014, 2015, and 2016 the company has received the Inc. 5000 award for being recognized as one of the 5,000 fastest growing private companies in the America. Both companies are A-rated and accredited by the Better Business Bureau. They perform lawn fertilizing and integrated pest management service for residential and commercial clients. They are active members of PLANET, National Association of Landscape Professionals and NPMA. In 2017 Green Pest Solutions received the Philly.com Readers Choice Award for Best Pest Control Company.