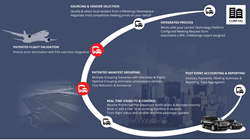 miMeeting at its core, is an evolutionary approach to ground transportation for meetings and events
Ft. Lauderdale, FL (PRWEB) July 27, 2017
Pow Wow Smart, a leading provider of turn-key solutions and data aggregation for ground transportation for corporate meetings and events, announced the launch of its new miMeetings brand. Offering a complete enterprise solution, miMeetings signals a new commitment and service philosophy designed to deliver meeting planners efficiencies that save time and money.
"miMeeting at its core, is an evolutionary approach to ground transportation for meetings and events," said Evan Michaels, managing partner of miMeetings. "As part of the miMeetings dynamic delivery of better business results, we've integrated every part of our process with commitment and enthusiasm for client success."
Showcasing a glimpse of its new enterprise solution at Cvent Connect in June, miMeetings combines patented technology, professional services and a spend management focus designed to help corporations aggregate actionable data in line with SMM principles.
"Our 360-degree patented platform provides the power to effectively plan, analyze, design, forecast, and modify manifests for all types of groups and events, reducing the time and effort required to create a budget and submit a proposal," said managing partner, JC Carey. "Finally meeting planners can realize significant savings of cost and time for the entire ground transportation segment of this highly overlooked spend category."
# # # # #
About miMeetings
miMeetings is a leading provider of turn-key solutions and data aggregation for ground transportation for meetings and events. Through patented technology, we source and contract the best companies and rates in all markets, provide manifest list management and coordination of all services, reconcile billings and generate reports to enable spend management strategies in this category. To know more visit http://www.miMeetings.com.
Contact: Evan Michaels, CEONew Brand