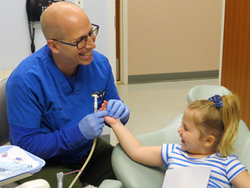 "Prevention is the best thing we can give a kid," Dr. Ramos
Paterson, NJ (PRWEB) July 27, 2017
The Medical & Dental Clinic at Eva's Village recently introduced a pediatric dental program to provide regular exams and treatment to over 50 children who reside in Eva's residential recovery and shelter programs, as well as children referred from Oasis, A Haven for Women and Children, and other organizations in Paterson. Accessing preventive dental care and teaching good oral hygiene habits can be a challenge for parents who are struggling with substance use, the instability of homelessness or the stress of unemployment.
Dr. Mario Ramos, DDM, a pediatric dentist in private practice, volunteered to help set up and run Eva's pediatric clinic. He noted that kids from low income families (20% of all children) account for 80% of childhood tooth decay in the U.S. Dr. Ramos volunteers at Eva's Dental Clinic once a week to examine and treat children. He believes that teaching parents about dental care and hygiene is the key to kids' good oral health; so in addition to treating children in a clinical setting, he is presenting a series of learning sessions for parents and older children at Eva's Village. "Prevention is the best thing we can give a kid," Dr. Ramos explained during a recent presentation to a group of 24 mothers who live at Eva's with their children.
A grant from the Horizon Foundation of New Jersey helped to jump-start Eva's pediatric dentistry service. The two-year grant is part of Horizon's Kids' Oral Health Program, a pilot initiative to make it easier for underprivileged children to access dental care.
More About the Medical & Dental Clinic at Eva's Village
The new service is an expansion of Eva's Dental Clinic, where volunteer dentists and dental hygienists have been providing oral care, treatment and restorative dentistry since 2002 to adult clients who live at Eva's Village. Volunteer medical professionals have been delivering free health care services to Eva's clients and the Paterson community for nearly 35 years.
More about Eva's Village
Founded by Msgr. Vincent E. Puma in 1982, Eva's Kitchen began by serving 30 meals a day to feed the hungry in Paterson. In response to the related issues of poverty, addiction, mental illness and homelessness, programs and services grew out of the original soup kitchen to address the root causes as well as the effects of homelessness and poverty. Today, Eva's Village, a non-profit, comprehensive, social service organization, offers 20 programs that address needs in the community for food and shelter, recovery and medical services, and education and job training, with the goal to help those in need move toward stability and independence.