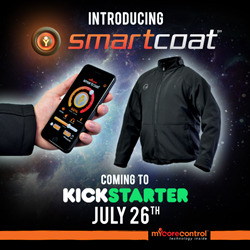 Smartcoat revolutionizes the way you do winter. If it's not Smartcoat, it's just a jacket.
Houston, TX (PRWEB) July 26, 2017
Houston-based wearable tech startup, My Core Control, Inc. disrupts apparel industry with their Kickstarter.com introduction of the first-ever Smartcoat™, with patented, My Core Control, "electronic personal thermal control" technology inside. Smartcoats will start at $299 and be sold for 30 days exclusively on Kickstarter.com, beginning Wednesday, July 26th.
"Smartcoat™ provides a whole new way of living daily life in the cold and will forever change the way we do winter," said CEO/Founder, Buddy Lavin. "Through our Mycore Smartcoat app for Apple or Android phones or watches, we have linked our smart devices to apparel for variable heat control, enhanced accessory performance and hands-free connectivity."
Smartcoat™ is the only heated jacket technology that can actually change or regulate human core body temperature on demand. It's patented "electronic personal thermal control" technology heats the pulse point areas of the inner wrist to warm the blood as it passes by, through thermodynamic heat absorption. Then as the heart beats warmed blood is circulated throughout the entire body—warming you from the inside out.
"Our patented technology inside the jacket actually has the ability to actively regulate core body temperature as desired by the end user," said Lavin, "you can see and feel the change in body temperature." Say goodbye to dressing up and down all day with bulky layering routines.
Smartcoat™ uses the My Core App to connect to either Android or Apple devices. Once connected, users have their own temperature control dial to adjust the temperature for comfort, relative to their environment. Users also enjoy voice activation just like Apple's Siri or Amazon's Alexa, external Virtual Reality Surround Sound, retractable earbuds and phone-charging capabilities.
My Core Control has attracted investment from several prominent investors, including former head of Barclay's PLC's American Division, and prior to that was the global head of the banking division of Lehman Brothers, Hugh "Skip" McGee. "This could be a real game changer in terms of wearable tech," said McGee.
Smartcoat™ defines a whole new vast dimension and leap forward for wearable technology. The wearable tech market is expected to reach $150 billion annually by 2027, according to IDTechEx Ltd.
"Smartcoat™ is the softer side of wearable tech," said Lavin. "If it's not Smartcoat™, it's just a jacket."