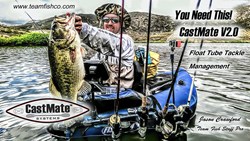 Overwhelming Summer demand has caused us to reconfigure our manufacturing supply-chain. Jack Becht - General Manager
San Diego, California (PRWEB) July 27, 2017
Fishermen want to expand their fishing opportunities and get closer to the water. Because of this trend float tube and kayak fishing has exploded throughout the US. Not only do they get their users closer to the water, and into places unreachable in the past, they cost a fraction of owning a boat and have none of the storage and registration requirements. Add to that, the rising price of gasoline in California makes man-powered watercraft even more preferable. Because of this and the availability of as many as 100 different types of float tubes and kayaks now available, the need to attach accessories, such as rod holders, net holders, camera mounts and cup holders has exploded.
TEAM FISH, Inc., an outdoor products design and manufacturing firm in San Diego addressed this with the introduction of the CASTMATE® line of rod holders in 2014 as the first user-configurable, multiple rod holder system especially for float tubes. The CASTMATE® float tube rod holder system allows the user to lash the aluminum and nylon-constructed rack directly to the float tube and manage an assortment of fishing gear and tackle with the many accessories available, including: spinning, casting and fly rod holders, net holder, cup holder, tackle table and a camera mount system that can hold any portable action video camera with a standard camera screw mount attachment. TEAM FISH has also made all these accessories available for mounting directly on a kayak with the YAKMATE® product line.
This Summer's demand is off the charts. According to TEAM FISH General Manager Jack Becht, "Overwhelming Summer demand has caused us to reconfigure our manufacturing supply-chain. Being out of stock is a double-edged sword, it's a good problem to have, but it's still a big problem!"
With sales expected to peak through the end of Summer, TEAM FISH is gearing up as well.
Find out more about CASTMATE® products at http://www.teamfishco.com.