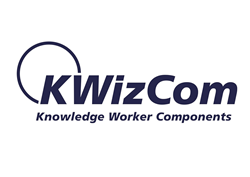 Toronto, ON (PRWEB) July 26, 2017
KWizCom Corporation, a leading developer of SharePoint Forms & Mobile Solution, as well as multiple other turn-key SharePoint add-ons and apps for Office 365, announced they are a Gold Sponsor of the SharePoint Fest Seattle taking place at the at the Washington State Convention Center on August 8 - 11, 2017.
SharePoint Fest Seattle is one of the premier SharePoint and Office 365 conferences in North America that consists of one day of pre-conference workshops, two days of general sessions, and one day of post-conference workshops. Over 90 sessions will be offered across multiple tracks, and there will also be a networking reception held at the end of the first day of the conference.
Conference attendees are invited to visit KWizCom booth #400 where they will be able to familiarize themselves with the powerful SharePoint add-ons and apps for Office 365 the company offers, while playing a fun trivia game called "Forms Superhero". The winners of each game will receive gift cards, and all the other participants will get prizes as well.
About KWizCom
Since 2005, KWizCom has provided innovative solutions and services to make SharePoint even better for over 7,000 companies worldwide. KWizCom is a leading provider of SharePoint Forms, Mobile, Wiki solutions, and over 60 other add-ons for SharePoint on-premises and apps for Office 365. KWizCom software is available to federal, state and local government agencies through GSA schedule.
KWizCom is a Gold Certified Microsoft Partner is headquartered in Toronto, Canada to find out more about the company visit http://www.kwizcom.com.