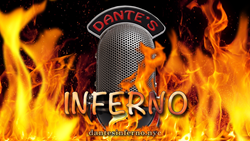 I say what everyone is thinking but is afraid to say out loud. I call it like I see it, and if you disagree with me, TELL ME! There's nothing wrong with a difference of opinion!
New York, New York (PRWEB) July 27, 2017
No one is safe from the fire! Wall Street Venture Capitalist, The Vitoria Group CEO Dante Vitoria launches Dante's Inferno Podcast with his uncensored take on everything from politics, business, current events, celebrities, sports, etc. Everyone is on blast and only Dante Vitoria gives the inside scoop and "Real Deal Holyfield" answers to questions most people won't touch. He pulls no punches, so if you don't want an honest answer, don't ask Dante the question!
Dante Vitoria's blog Dante's Inferno can be found at dantesinferno.nyc
Also check out The Vitoria Group CEO Dante Vitoria's Podcast Dante's Inferno on dantesinferno.nyc. You can also subscribe to Dante Vitoria's Dante's Inferno Podcast on iTunes or Podbean.
About Dante Vitoria:
Dante Vitoria is Founder & CEO of The Vitoria Group. For over 30 years, Dante Vitoria has been running his own firm, The Vitoria Group, which has broad experience in working with companies of various sizes to fulfill its clients' financial needs. The client base is extremely diverse, ranging from international money centers, domestic banks, insurance companies and financial firms. The Vitoria Group provides a vast array of financial services specifically tailored to enable clients to meet their goals - the assistance, direction and access to professional banking and other facilities. Dante's 30+ years experience as an investment banker on Wall Street, provides insight, expertise and comprehensive advice with a down-to-earth-approach on key aspects of local and international economics, personal finances and financial planning.
Dante is also host of Dante's Inferno Podcast at DantesInferno.nyc