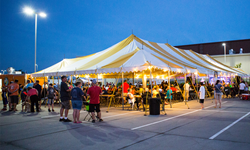 Ralston, Neb. (PRWEB) July 26, 2017
Omaha Steaks, a fifth generation family-owned company and the nation's leading provider of exceptional grain-fed beef and premium gourmet foods, announced today that the Omaha Steaks Nebraska BBQ Championship ignites August 4-6. The event ranks in the top five Kansas City Barbeque Society (KCBS) competitions in the country in terms of overall prize money by featuring a $50,000 prize purse.
Nearly 100 competition teams from across the country and over 5,000 BBQ fans are expected to attend the Omaha Steaks Nebraska BBQ Championship, which is at the Ralston Arena (7300 Q Street, Ralston, Neb. 68127). The event is free and open to the public with live music, tasting tents, kid's zone, live demos, and some of the best competition barbeque teams from across the country. It's organized by the Greater Omaha Barbeque society (GOBS), who are celebrating their 25th year hosting the annual barbeque competition in the Omaha area.
"We are proud to sponsor the Omaha Steaks Nebraska BBQ Championship," said Senior Vice President and family owner Todd Simon. "This is actually our second year sponsoring the event. Our commitment to the community is putting Omaha in the top ranking BBQ destinations nationwide. We love that this is now one of the top BBQ events in the country in terms of prizing."
The event features a back-to-back format, which means there will be two separate barbeque competitions during the weekend, one on Saturday and one on Sunday, where teams will compete in the four KCBS categories of chicken, pork, ribs, and brisket. In addition, there will be a back-to-back steak cookoff, sanctioned by the Steak Cookoff Association (SCA), called the Omaha Steaks World Championship of Grilling, where teams will prepare Omaha Steaks Ribeyes both Friday and Saturday. Also, kids aged 6 to 15 will compete for cash prizes in the KidsQue by preparing Omaha Steaks Burgers on Saturday.
"The Greater Omaha Barbeque Society (GOBS) is happy to have Omaha Steaks as a sponsor," said GOBS Vice President Steve Richards. "Having their support has made this into a huge event and the new back-to-back format makes this a fantastic event for the competitors; there are plenty of chances for them to win part of the $50,000 prize purse."
Activities for the public include live music from BluesEd, School of Rock, and Tami Hall; demonstrations from Omaha Steaks, and Fireplace Stone & Patio; a kid's zone with bounce houses, petting zoo, pony rides and crafts; and for a $10 donation to Heartland Hope Mission, attendees can enjoy tasting tents featuring Omaha Steaks Whole Beef Brisket, Pork Shoulder, Filet Mignon Sliders, Baby Back Pork Ribs, and Ribeye.
"We are excited to share the taste of Omaha Steaks, and the knowledge of our staff, with competitors, judges and the public. Through our demonstrations, you will learn from our master butchers, who have over 100 years of combined meat cutting experience, how to trim and cut a brisket, pork shoulder, and ribeye steak for competition. You will also learn how to cut a tri-tip steak – one of our newest and most unique steak cuts. It's something you won't want to miss," Simon added.
For more information on the Omaha Steaks Nebraska BBQ Championship, including a full schedule of events, visit: http://www.omahasteaks.com/info/The-Omaha-Steaks-Nebraska-BBQ-Championship.
About Omaha Steaks:
Omaha Steaks, founded in 1917, is an Omaha, Nebraska-based, fifth-generation, family-owned company that markets and distributes a wide variety of the finest quality USDA-approved, grain fed beef and other gourmet foods including seafood, pork, poultry, side dishes, appetizers, complete meals and desserts. Today, Omaha Steaks is recognized as the nation's largest direct response marketer of premium beef and gourmet foods, available to customers by calling 1-800-228-9055, online at http://www.OmahaSteaks.com or at retail stores nationwide.
About Greater Omaha Barbeque Society:
The Greater Omaha Barbeque Society, widely known as GOBS, is committed to providing the upper Midwestern states with an organization that uses the art of barbeque to enrich those with members in the communities of Nebraska, Iowa, South Dakota, Missouri, and Kansas. As an organization, The Greater Omaha Barbeque Society is a group of barbeque enthusiasts that includes competition teams, certified barbeque judges, restaurant owners, business owners, and backyard cookers who want to give back to the communities in which they live through barbeque.
About Ralston Arena:
Ralston Arena is a 3,400-seat arena located in the Ralston/Omaha, Nebraska metro area. The arena is home to the USHL Omaha Lancers hockey team, the CPIFL Omaha Beef, and LFL Omaha Heart. The arena also hosts a wide variety of concerts, family shows, banquets, and trade & consumer shows. For additional company information, please visit http://www.ralstonarena.com or call 402.934.9966.
###