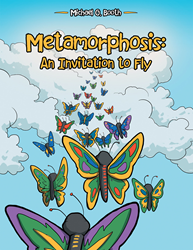 PORT STANLEY, Ontario (PRWEB) July 31, 2017
A Canadian author has released his debut children's book that, with humorous verses and vibrant illustrations, delivers a simple message of salvation through Jesus Christ. In "Metamorphosis: An Invitation to Fly," Michael G. Booth offers parents a fun tool with which they can teach their kids about establishing a relationship with God.
Booth's book opens on a discontented caterpillar who spends his days longing to fly. When the caterpillar crosses paths with a butterfly, their conversation opens the door to his own transformation and ultimate freedom. Inspired by Booth's personal journey to salvation, "Metamorphosis: An Invitation to Fly" offers a gentle introduction to Christianity.
"I believe that children often take in and understand more information than adults give them credit," Booth said. "This book acknowledges that and, without talking down to kids, gives them the opportunity to learn more about their relationship with Jesus Christ."
A metaphor for the transformative power of God at work in the Christian life, Booth hopes parents and children will embrace his book's powerful and uplifting message about spiritual growth. "Metamorphosis: An Invitation to Fly" offers readers a path to liberation and a colorful, easy way to explore and develop their faith in God.
"Metamorphosis: An Invitation to Fly"
By Michael G. Booth
ISBN: 978-1-5127-6849-7 (paperback); 978-1-5127-6850-3 (electronic)
Available at the WestBow Press Online Bookstore, Barnes & Noble and Amazon
About the author
Michael G. Booth is a writer and passionate follower of Jesus Christ. Booth studied landscape design at Fanshawe College in London, Ontario, and enjoys studying the Bible, writing poetry and gardening in his free time. A dedicated husband and father, Booth currently resides in Port Stanley, Ontario.
Review Copies & Interview Requests:
LAVIDGE – Phoenix
480-998-2600 x 614
dgrobmeier(at)lavidge(dot)com
General Inquiries:
LAVIDGE – Phoenix
480-998-2600 x 584
mdriver(at)lavidge(dot)com