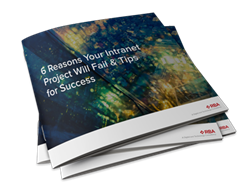 The digital workplace e-book positioned RBA as a thought leader and contributed to winning major clients.
Wayzata, MN (PRWEB) July 26, 2017
RBA, a national digital and technology consultancy, along with its agency Maccabee Public Relations has been recognized as a finalist in the 2017 Content Marketing Awards in the "Best Use of E-Book or White Paper Program" category for its e-book, "6 Reasons Your Intranet Project Will Fail, & Tips for Success."
The Content Marketing Awards, produced by the Content Marketing Institute, is the largest and longest-running international content marketing awards program in the world. The awards recognize and honor the best content marketing projects, agencies and marketers in the industry each year. This 2017 panel of all-star judges reviewed more than 1,100 entries across 93 categories to choose the "best of the best" in content marketing excellence from strategy to distribution and editorial to design.
"As RBA continues to grow our practice of intranet and digital workplace solutions, it has been critical that we communicate our point of view to potential customers," said Jenna Soule, Marketing and Corporate Communications Manager at RBA. "The digital workplace e-book positioned RBA as a thought leader and contributed to winning major clients. We're thrilled that it's been recognized as an industry-leading example of content marketing."
RBA's campaign centered on a 30-page e-book addressing common mistakes and tips for intranet projects as a way to drive engagement and inbound sales leads with its intranet and digital workplace technology offerings. The campaign was so successful in reaching its target audience of Minnesota-based business decision makers that RBA has launched a second campaign featuring international experts on digital workplace trends. The "Stop Working Like You Used To: An Expert Guide to Digitally Transforming Your Workplace" e-book is now available for free download on rbaconsulting.com.
For more information about the awards and to view the other finalist and award recipients, visit http://www.contentmarketingawards.com/2017-winners.
About RBA, Inc.
RBA is a national digital and technology consultancy headquartered in Minneapolis that combines expertise in strategy, design and technology to close the gap between ideas and results. We are passionate about helping our clients transform their businesses through digital and technology solutions. For more information visit rbaconsulting.com or follow @rbaconsulting.