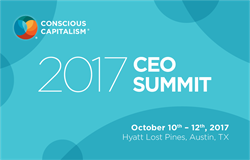 Austin, Texas and San Francisco (PRWEB) July 26, 2017
Conscious Capitalism, Inc. the nonprofit dedicated to elevating humanity through business, is pleased to announce the lineup of keynote speakers for its 11th annual Conscious Capitalism CEO Summit to be held October 10-12 in Austin, Texas.
Each fall, an exclusive group of chief executives, presidents and their peers are invited to the CEO Summit in Austin for intimate connections and deep conversations around their respective experiences practicing Conscious Capitalism. Summit participation is limited to a group of 225 high-quality, carefully curated conscious leaders who come to learn with and from each other. These leaders run businesses that have deeper purposes beyond just maximizing shareholder value. They share common goals to create value for all of their respective stakeholders and to develop cultures that energize and unify those stakeholders to bring their conscious businesses to life.
Scheduled speakers for the 2017 Conscious Capitalism CEO Summit include:
Panera Bread co-founder, CEO and chairman, Ron Shaich
Author of "Drive" and "To Sell is Human," Daniel Pink
Whole Foods Market co-founder and CEO, John Mackey
SoulPancake CEO and executive producer, Shabnam Mogharabi
Singularity University head of Startup Labs, Pascal Finette
Markel Corporation co-CEO, Tom Gayner
REBBL CEO, Sheryl O'Loughlin (former CEO of Clif Bar and Plum, Inc.)
Co-author of "Conscious Capitalism" and "Firms of Endearment," Raj Sisodia
Thrive Market co-founder and CEO, Gunnar Lovelace
Author of "Reinventing Organizations," Frederic Laloux
Ultra-endurance athlete and author of "Finding Ultra" and "The Plantpower Way," Rich Roll
The Motley Fool co-founder and CEO, Tom Gardner
GSD&M chairman and CEO of The Purpose Institute, Roy Spence
Palo Alto High Media Arts Center founder, Esther Wojcicki
Acclaimed international poet, IN-Q
Hello Alfred co-founder and CEO, Marcela Sapone
The Ruhlin Group founder and author of "GIFTOLOGY," John Ruhlin
Refresh Glass founder, Ray DelMuro
The 11th Annual Conscious Capitalism CEO Summit will be held October 10-12 at the Hyatt Regency Lost Pines Resort just outside of Austin, Texas. Nominations for the invitation-only event can be submitted at CEOSummit.ConsciousCapitalism.org. Questions regarding invitation eligibility and registration should be sent to info(at)ConsciousCapitalism(dot)org.
About Conscious Capitalism
Conscious Capitalism, Inc. is a 501c3 nonprofit organization dedicated to elevating humanity through business. The practice of Conscious Capitalism includes implementing the tenets of Higher Purpose, Stakeholder Orientation, Conscious Culture and Conscious Leadership. The organization produces transformational events, workshops, publications and academic research, and supports a growing network of Conscious Capitalism Chapters around the world which serve as communities of inquiry for business leaders, entrepreneurs, coaches, consultants and others interested in advancing the Conscious Capitalism movement. Founded in 2010, Conscious Capitalism, Inc. is headquartered in San Francisco.