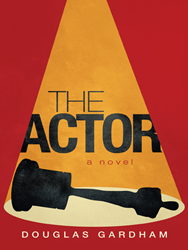 TOTTENHAM, Ontario (PRWEB) July 31, 2017
Deemed by The Globe and Mail newspaper as "the hardest working Canadian novelist you've never heard of," Douglas Gardham spends his weekends hosting book signings and crisscrossing between Canada and the U.S. to promote his novels.
In his latest novel, "The Actor," Gardham shares the tale of Ethan, a young actor who wins the acting role of his dreams only to have them shattered when his girlfriend is murdered. The book has been described by Mark Medley, The Globe and Mail's books editor, as "a bizarre, David Lynch-like thriller about obsession, delusion, determination…"
Ethan's story weaves between his present day and the future where parallel tales of tragedy haunt the young actor on his journey to stardom. Much like his title character, Gardham understands the power of chasing after one's dreams in the face of uncertainty.
"The Actor" is a tale that I wanted to originally have for my family, but I decided to get it professionally published and see where the publishing journey would take me," Gardham said. "It has been a great journey of dedication and perseverance."
In "The Actor," readers will follow Ethan on his journey to become a movie star as he deals with the trauma of a personal tragedy and the consequences of pursuing a dream.
"The Actor"
By: Douglas Gardham
ISBN: 978-1-9389-0866-8 (sc); 978-1-9389-0867-5 (e)
Available at the iUniverse Online Bookstore and Amazon
About The Author:
Douglas Gardham is a full-time author who previously worked as an engineer until he started writing to find a more creative outlet. He has participated in over 40 interviews for his books and has over 100,000 Twitter followers as @GardhamDouglas. Gardham currently lives in Tottenham with his wife. For more information about the author and his book, please visit: http://www.douglasgardham.com.
# # #
Review Copies & Interview Requests:
LAVIDGE – Phoenix
Maggie Driver
480-998-2600 x 584
mdriver(at)lavidge(dot)com
General Inquiries
LAVIDGE – Phoenix
Danielle Grobmeier
480-998-2600 x 614
dgrobmeier(at)lavidge(dot)com