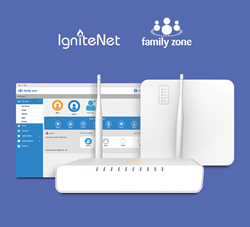 Now, with the Family Zone application, IgniteNet cloud users are one click away from having their network cyber safety sorted
(PRWEB) July 27, 2017
Family Zone is the first fully comprehensive cyber safety service deployable by ISPs to Internet subscribers worldwide. This partnership not only creates new revenue streams for ISPs but also enables their subscribers to seamlessly add policy controls to their networks.
The IgniteNet / Family Zone partnership provides the ideal solution for:
● Residential customers seeking advanced networking and to protect their family, moderate internet usage and limit screen time
● Educational providers seeking to comply with regulations and manage duty of care
● Enterprise WiFi providers seeking the advanced features of IgniteNet and the ability to restrict inappropriate access to their networks.
Family Zone app is enabled via the IgniteNet cloud controller.
Family Zone is a global leader in cyber safety. Launched in 2016, Family Zone has developed a world first cyber safety ecosystem. Family Zone technology is being installed in many of the world's biggest telco providers and is now embedded in over 300 prestigious schools worldwide.
The cloud controller from IgniteNet is a powerful and cost effective platform to monitor and manage multiple networks with 1000's of devices for only $99 USD per year. It is ideal for ISPs that not only want to offer a managed in-home or in-business networking solution but that also want to easily deploy additional value-add services over that platform from anywhere, anytime. Now, with the Family Zone application, IgniteNet cloud users are one click away from having their network cyber safety sorted.
"We are really excited about Family Zone integration into our growing application marketplace. It opens up new opportunities for our ISP customers to offer a comprehensive cyber safety application to their subscriber base. Applications like these and others in our marketplace not only add tremendous value to subscribers, but they also give ISPs additional revenue streams and let them stay competitive in the market," says Harold Bledsoe, President of IgniteNet.
Managing Director of Family Zone Tim Levy says: "IgniteNet have an fantastic product range and, likeFamily Zone, have our passion for empowerment. We are excited to join the IgniteNet marketplace and to bring Family Zone's digital experience solutions to this large and fast growing market.Family Zone has been developed from the ground to support partnerships and we're delighted to be part of this ecosystem and to create value for IgniteNet's ISP customers"
About IgniteNet
Headquartered in Irvine, CA, IgniteNet is a wholly owned subsidiary of SMC Networks, Inc. IgniteNet has a proven track record of producing powerful, reliable, and easy to deploy, innovative cloud managed wireless solutions and the industry's lowest cost 60 GHz wireless technology through channel partners worldwide focused on Enterprises and service providers.
About Family Zone
Family Zone leads the market with a fully integrated school, home and mobile cyber safety offering. Passionate about helping parents across the globe manage what their kids are doing online, the Family Zone solution removes adult content for safe searching, manages screen time, apps and in-app purchases and set routines and device sleep times . Easy to setup and easy to use, Family Zone has cyber safety sorted.