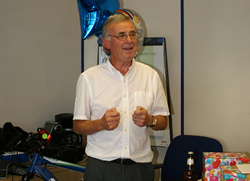 We will miss his expertise and knowledge but, even more, we will miss his humour and his warm and genuine personality. It has been a pleasure working with him over the years and we wish him a happy retirement.
Harlow, UK (PRWEB UK) 26 July 2017
Haag-Streit UK (HS-UK) has announced that Brian Griffiths, HS-UK Export Manager, retired on 19th July, after 27 years of service to the company. Former Customer Services Co-ordinator Rob Morgan has taken over the role.
Brian started his career in 1971 as an Import Officer with Fred Olsen, before spending 15 years at the British Oxygen Company (BOC). Here, he worked as Area Sales Support Supervisor, responsible for South East Asia and was later promoted to Export Executive.
In 1990, he joined Clement Clark International (CCI) as Export Supervisor. After 8 years in the role, Brian moved to the Ophthalmic Sales Division, rising to the position of Export Manager. In 2005, he transferred to sister company, Haag-Streit UK, in the same role.
Brian credits job satisfaction as the reason for his longevity with the company. "I simply enjoyed the work I was doing, and got a lot of fulfilment from my role", Brian commented, "Meeting the distributors face-to-face, listening to their concerns and getting to work closely with people from around the world was a fantastic experience."
HS-UK Managing Director, Dean Johnson, said, "For more than two decades, Brian has played a pivotal role in the company, growing international sales of our own Clement Clarke range of manufactured products. We will miss his expertise and knowledge but, even more, we will miss his humour and his warm and genuine personality. It has been a pleasure working with him over the years and we wish him a happy retirement."
For more information on Brian's retirement, please call Haag-Streit UK on (01279) 883807 or email epoole(at)haag-streit-uk(dot)com