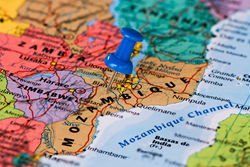 The gas discovery in Mozambique is very exciting for the energy sector. Several Wings' clients, who we service in other parts of the world, are finalising contracts in order to begin exploration in Mozambique.
Houston, Texas (PRWEB UK) 28 July 2017
Wings Travel Management, the global specialist travel provider for high-end corporate businesses and companies in the oil, gas and marine industries, is establishing an operation in Mozambique to support clients who are moving into this market, following the discovery of some 85 trillion cubic feet of gas reserves in 2011, said to be the most significant find in a decade.
Last month, Eni SpA led a group that signed off a US$7 billion investment to start drilling and processing gas from floating offshore platforms in Mozambique's Rovuma Basin. The find is allegedly enough to supply Germany, Britain, France and Italy for nearly two decades. According to Standard Bank, Liquefied Natural Gas (LNG) will add $39 billion to the Mozambican economy over the next 20 years, boosting GDP per capita from approximately $650 in 2013, to $4500 by 2035.
The addition of Mozambique brings London-headquartered Wings Travel Management's wholly owned and controlled operations in key oil and gas markets worldwide to a total of 14, including Houston, Texas, USA; Lagos in Nigeria; Aberdeen in Scotland, UK; Luanda in Angola; Rio de Janeiro in Brazil; Cape Town, Johannesburg and Durban in South Africa; and Dubai in the United Arab Emirates.
Over the last 25 years, Wings has carved a niche as a global travel management company providing high-touch complex travel and support services to clients in the energy, marine, security, specialist finance and engineering industries, where travel is a critical part of their business model – particularly to developing markets and high-risk destinations.
Wings Travel Management's CEO Tony Sofianos commented: "The gas discovery and potential exploration in Mozambique is very exciting for the energy sector. Several of our clients, who we service in other parts of the world, are finalising investments and contracts in order to begin operating in Mozambique. Wings is therefore setting up its own presence in Mozambique in order to give the high level of travel and logistics support that these companies will need."
Houston-based Chris Martin, Wings Travel Management's VP Business Development for the Americas, adds: "Wings' business model is based on establishing wholly owned and controlled operations. This enables us to deliver consistent high-touch service levels, reliable on-demand, critical traveller safety support and expert ground transport advice, particularly in high risk countries. This is a distinct point of difference to our competitors."
Wings recently bolstered its commitment to traveller safety support with the launch of goSecure™, a sophisticated travel risk management and alert portal, enabling Wings' consultants to locate and communicate with travellers and bookers accurately and rapidly during a crisis. Alternatively, for those clients who already have an established travel risk management strategy, Wings offers the option of goSecure+™, whereby Wings will implement a customised portal for use in-house by travel managers. A unique aspect of goSecure is that clients can opt to link the tool to Wings' new intuitive mobile app VIMA™ (Virtual Itinerary Management Application).
About Wings Travel Management: Wings has carved a niche in the market as a trusted travel provider for clients in the oil, gas and marine sector, as well as companies operating in service- and people-critical industries where travel is an integral part of their business. Founded in 1992, Wings' global reach spans North America, South America, UK/Europe, Africa, and the Middle East, where the company has wholly owned and managed regional offices. Wings is known for its unique expertise in navigating complex and challenging energy-related business travel, as well as its advanced, customizable technology solutions, all seamlessly accessible over a standardized global platform. http://www.wings.travel